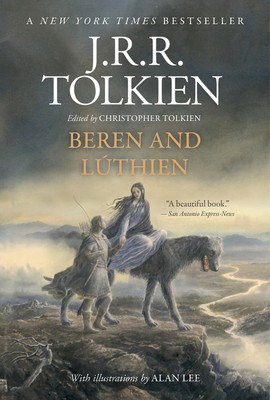 Beren and Lúthien
Paperback

* Individual store prices may vary.
Other Editions of This Title:
Hardcover (6/1/2017)
Compact Disc (7/14/2020)
Description
New York Times Bestseller

"A good introduction to LOTR fans nervous about taking on The Silmarillion, and also gives longtime fans a fascinating look at the Tolkiens' myth-making process."—EntertainmentWeekly.com 

"A beautiful book."—San Antonio Express-News

"With eloquence and diligence and care, the son reconstructs and retraces the father's journey, pursuing the tale through draft after draft as Tolkien pursued his vision of Middle-earth."—NPR.org
 
The epic tale of Beren and Lúthien became an essential element in the evolution of The Silmarillion, the myths and legends of J.R.R. Tolkien's First Age of the World. Always key to the story is the fate that shadowed their love: Beren was a mortal man, Lúthien an immortal Elf. Her father, a great Elvish lord, imposed on Beren an impossible task before he might wed Lúthien: to rob the greatest of all evil beings, Melkor, of a Silmaril.
                  Painstakingly restored from Tolkien's manuscripts and presented for the first time as a continuous and standalone story, Beren and Lúthien reunites fans of The Hobbit and The Lord of the Rings with Elves and Men, along with the rich landscape and creatures unique to Tolkien's Middle-earth. Christopher Tolkien tells the story in his father's own words by giving its original form as well as prose and verse passages from later texts that illustrate the narrative as it changed.
Mariner Books, 9781328915337, 288pp.
Publication Date: March 6, 2018
About the Author
J.R.R. TOLKIEN (1892–1973) is the creator of Middle-earth and author of such classic and extraordinary works of fiction as The Hobbit, The Lord of the Rings, and The Silmarillion. His books have been translated into more than fifty languages and have sold many millions of copies worldwide.

CHRISTOPHER TOLKIEN (1924–2020) was the third son of J.R.R. Tolkien. Appointed by Tolkien to be his literary executor, he devoted himself to the editing and publication of unpublished writings, notably The Silmarillion, Unfinished Tales, and The History of Middle-earth.

ALAN LEE was born in Middlesex in 1947. His illustrated books include Faeries (with Brian Froud), Castles and Merlin Dreams, and the three 'Great Tales' of Middle-earth: The Children of Húrin, Beren and Lúthien, and The Fall of Gondolin. He has worked on such prestigious films as Erik the Viking (Terry Gilliam), Legend (Ridley Scott), and the acclaimed NBC miniseries Merlin. He is best known, however, for his work on the books The Hobbit and The Lord of the Rings, and now the film versions.