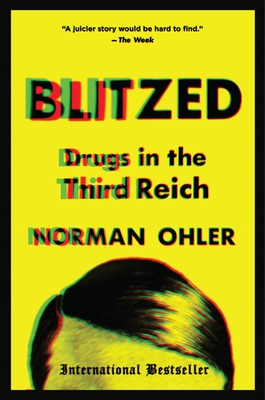 Blitzed
Drugs in the Third Reich
Paperback

* Individual store prices may vary.
Other Editions of This Title:
Digital Audiobook (3/6/2017)
MP3 CD (3/7/2017)
Compact Disc (3/7/2017)
Compact Disc (3/7/2017)
Description
A New York Times bestseller, Norman Ohler's Blitzed is a "fascinating, engrossing, often dark history of drug use in the Third Reich" (Washington Post).

The Nazi regime preached an ideology of physical, mental, and moral purity. Yet as Norman Ohler reveals in this gripping history, the Third Reich was saturated with drugs: cocaine, opiates, and, most of all, methamphetamines, which were consumed by everyone from factory workers to housewives to German soldiers.

In fact, troops were encouraged, and in some cases ordered, to take rations of a form of crystal meth—the elevated energy and feelings of invincibility associated with the high even help to account for the breakneck invasion that sealed the fall of France in 1940, as well as other German military victories. Hitler himself became increasingly dependent on injections of a cocktail of drugs—ultimately including Eukodal, a cousin of heroin—administered by his personal doctor.

Thoroughly researched and rivetingly readable, Blitzed throws light on a history that, until now, has remained in the shadows.

"Delightfully nuts."—The New Yorker
Praise For Blitzed: Drugs in the Third Reich…
National Bestseller New York Times Book Review Editor's Choice "The strengths of Ohler's account lie not only in the rich array of rare documents he mines and the archival images he reproduces to accompany the text, but also in his character studies… Ohler effectively captures Hitler's pathetic dependence on his doctor and the bizarre intimacy of their bond…Blitzed makes for provocative reading." —The New York Times Book Review "A revelatory work that considers Hitler's career in a new light. 'Blitzed: Drugs in the Third Reich' is that rare sort of book whose remarkable insight focuses on a subject that's been overlooked, even disregarded by historians." —The San Francisco Chronicle "Blitzed is a fascinating read that provides a new facet to our understanding of the Third Reich."—Buzzfeed "It's as breezy and darkly humorous as its title. But don't be fooled by the gallows humor of chapter names like 'Sieg High' and 'High Hitler': This is a serious and original work of scholarship that dropped jaws around Europe when it was published there last year." —Mashable "A juicier story would be hard to find." —The Week "Delightfully nuts, in a Gravity's Rainbow kind of way."—The New Yorker "Transforming meticulous research into compelling prose, Ohler delves into the little-known history of drug use in Nazi Germany."—Entertainment Weekly "[A] fascinating, engrossing, often dark history of drug use in the Third Reich."—The Washington Post "This heavily researched nonfiction book by a German journalist reports that the drug was widely taken by soldiers, all the way up the ranks to Hitler himself, who received injections of a drug cocktail that also included an opioid."—Newsday "The book achieves something nearly impossible: It makes readers look at this well-trodden period in a new way and does it in a readable, inviting format. It also doesn't preclude future scholarship by professional historians to elaborate on the role of drugs in Nazi Germany." —Newsweek "This is Ohler's first nonfiction book (he's written three novels) and the first popular book of its kind, filling a gap between specialist academic literature and sensationalist TV documentaries… The book is an impressive work of scholarship, with more than two dozen pages of footnotes and the blessing of esteemed World War Two historians… Ohler offers a compelling explanation for Hitler's erratic behavior in the final years of the war, and how the biomedical landscape of the time affected the way history unfolded… Ohler's book makes a powerful case for the centrality of drugs to the Nazi war effort." —The New Republic "Explosive ... Ohler describes the chemical ignition of the first assault on the Western front with a novelist's flair." — Rolling Stone "I had thought nothing could make [Nazis] more horrifying, but that was before I encountered Blitzed. Now I know the only thing more terrifying than the Nazis are the Nazis on meth ... Blitzed is not your typical history book ... It's amazing that biographers haven't focused on the drug angle this rigorously."
Mariner Books, 9781328915344, 304pp.
Publication Date: March 6, 2018
About the Author
NORMAN OHLER is an award-winning novelist, screenwriter, and journalist. He is the author of the New York Times bestseller Blitzed, as well as the novels Die Quotenmaschine (the world's first hypertext novel), Mitte, and Stadt des Goldes (translated into English as Ponte City). He was cowriter of the script for Wim Wenders's film Palermo Shooting. He lives in Berlin.