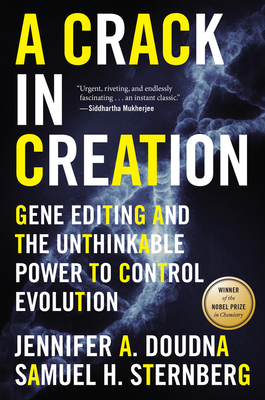 A Crack in Creation
Gene Editing and the Unthinkable Power to Control Evolution
Paperback

* Individual store prices may vary.
Other Editions of This Title:
Hardcover (6/13/2017)
MP3 CD (10/3/2017)
Description
BY THE WINNER OF THE 2020 NOBEL PRIZE IN CHEMISTRY  |  Finalist for the Los Angeles Times Book Prize
  
"A powerful mix of science and ethics . . . This book is required reading for every concerned citizen—the material it covers should be discussed in schools, colleges, and universities throughout the country."— New York Review of Books 
 
Not since the atomic bomb has a technology so alarmed its inventors that they warned the world about its use. That is, until 2015, when biologist Jennifer Doudna called for a worldwide moratorium on the use of the gene-editing tool CRISPR—a revolutionary new technology that she helped create—to make heritable changes in human embryos. The cheapest, simplest, most effective way of manipulating DNA ever known, CRISPR may well give us the cure to HIV, genetic diseases, and some cancers. Yet even the tiniest changes to DNA could have myriad, unforeseeable consequences, to say nothing of the ethical and societal repercussions of intentionally mutating embryos to create "better" humans. Writing with fellow researcher Sam Sternberg, Doudna—who has since won the Nobel Prize for her CRISPR research—shares the thrilling story of her discovery and describes the enormous responsibility that comes with the power to rewrite the code of life.

"The future is in our hands as never before, and this book explains the stakes like no other." — George Lucas

"An invaluable account . . . We owe Doudna several times over." — Guardian
Praise For A Crack in Creation: Gene Editing and the Unthinkable Power to Control Evolution…
Finalist for the L.A. Times Book Prize
One of Science News' "Favorite Books of the Year"

"Fascinating . . . When people refer to CRISPR now, they talk about wiping out disease, resurrecting woolly mammoths, and fashioning designer babies. Such implications fascinate and torment Doudna, and she writes about them movingly with Samuel Sternberg, a biochemist and former research colleague, in A Crack in Creation."
—Bloomberg Businessweek

"The first book on CRISPR to present a powerful mix of science and ethics . . . This book is required reading for every concerned citizen—the material it covers should be discussed in schools, colleges, and universities throughout the country."
—New York Review of Books

"Fascinating . . . [A Crack in Creation] contribute[s] to a public understanding of CRISPR, explaining science in terms that are understandable for the general reader."
—Wall Street Journal

"[A Crack in Creation] opens with the stark observation that the revolution in gene editing launched by CRISPR 'offers both the greatest promise and, arguably, the greatest peril for the future of humanity.' The first half of the book is a history of CRISPR's development and a lucid explication of how it works. The authors describe the electrifying atmosphere of a laboratory at the front edge of discovery, while generously distributing credit to the legion of scientists who preceded Doudna and Chapentier or have carried their work forward. . . . The book's second half is an examination of CRISPR's great potential to eliminate or cure disease and improve human existence in myriad ways, and of the perils it poses for humanity's future."
—Los Angeles Times

"An enthusiastic and definitely not dumbed-down account of gene manipulation that, unlike earlier methods, is precise and easy...an important book about a major scientific advance."
—Kirkus Reviews, STARRED

"Excellent . . . The authors describe the biological mechanisms in a way that nonspecialists can appreciate."
—Publishers Weekly

"An essential start to educating the public . . . reveal[s] the complex, interlocking, and thoroughly international nature of today's bioscience...CRISPR heralds a new era of massively increased human control over life, one that will affect every person on Earth, directly or indirectly, and much of the rest of our planet's biosphere. If humans are to have any chance of harnessing its benefits, avoiding its risks, and using it in ways consistent with our values and cultures, then we all — not just the scientists, ethicists, and patent lawyers — need to understand something about CRISPR and its implications. A Crack in Creation is a great place to start."
—Los Angeles Review of Books

"A Crack in Creation chronicles the origin and potential application of CRISPR, the powerful new gene-editing technique that established Doudna as a household name in scientific circles. . . . You'll find yourself pausing to plot your own CRISPR-inspired science project—or science fiction scenario."
—Science

"An invaluable account, by Doudna and Samuel Sternberg, of their role in the revolution that is genome editing...It is unusual to have a popular account of a great scientific breakthrough written by the protagonist, so soon after its discovery. Watson's The Double Helix appeared 15 years after the work. We owe Doudna several times over – for her discovery, for her zeal to take it from the lab into the clinic, for her involvement in the ethical issues raised, for her public engagement work, and now for this book. It's a fine weapon against the still far too large tribe of those who don't believe in the power of very small things."
—Guardian (UK)

"A Crack in Creation is a powerful testament to the role of curiosity and tenacity in scientific research, and also an urgent plea from the celebrated biologist whose discovery enabled us to rewrite the code of life.  The future is in our hands as never before, and this book explains the stakes like no other."
—George Lucas, filmmaker

"Urgent, riveting, and endlessly fascinating, A Crack in Creation is a journey through the past, present, and future of one of biology's most significant discoveries. Combining deep historical perspectives, personal narrative, and scientific data, Doudna and Sternberg bring the story of CRISPR and 'gene editing' alive with pointed honesty and clarity. This book is destined to become an instant classic. Read it and understand its implications if you want to understand our biological future."
—Siddhartha Mukherjee, Pulitzer Prize–winning author of The Gene and The Emperor of All Maladies

"The technology of gene editing will be the most important advance of our era, one that will create astonishing opportunities combined with frightening moral challenges. In the tradition of The Double Helix, one of the pioneers of the field describes the exciting collaborative and competitive hunt for the key breakthrough and what it portends for our future."
—Walter Isaacson, bestselling author of Steve Jobs, Einstein, and The Innovators

"A Crack in Creation, by one of the most pioneering women in science, is both exhilarating and frightening. Jennifer Doudna and her co-author Samuel Sternberg challenge us to confront the possible dangers of gene editing, even as we embrace its incredible potential. This book is a roadmap to our future."
—Arianna Huffington, bestselling author of Thrive and The Sleep Revolution
 
"Jennifer Doudna is the true pioneer who built the bridge between the basic science of CRISPR and its diverse applications in agriculture and medicine.  Writing with Samuel Sternberg, she has crafted a beautifully written book with A Crack in Creation—a pure pleasure for both neophyte and expert. Now is the time to read about the revolution that could change our world."
​—George Church, Professor of Genetics at Harvard Medical School and author of Regenesis

"We are developing ever more powerful tools that allow us to change the genetic makeup not only of life around us but also of ourselves. Describing the potential benefits of these tools as well as some of the risks and ethical issues they present to society, A Crack inCreation is a scientific thriller and a gripping read, framed as a personal voyage by a brilliant scientist who played a major role in developing what is currently one of the most promising and powerful ways of editing our genomes."
—Venki Ramakrishnan, president of the Royal Society and winner of the Nobel Prize in Chemistry
Mariner Books, 9781328915368, 304pp.
Publication Date: August 21, 2018
About the Author
JENNIFER A. DOUDNA, Ph.D. is a professor in the Chemistry and the Molecular and Cell Biology Departments at the University of California, Berkeley, investigator with the Howard Hughes Medical Institute, and researcher in the Molecular Biophysics and Integrated Bioimaging Division at the Lawrence Berkeley National Laboratory. She is internationally recognized as a leading expert on RNA-protein biochemistry, CRISPR biology, and genome engineering. Along with Emmanuelle Charpentier, she was awarded the 2020 Nobel Prize in Chemistry for their research on CRISPR-Cas9. She lives in the Bay Area.

DR. SAMUEL H. STERNBERG is a protein-RNA biochemist and author of numerous high-profile scientific publications on CRISPR technology. He runs a research laboratory at Columbia University, where he is assistant professor in the Department of Biochemistry and Molecular Biophysics. He lives in New York City.