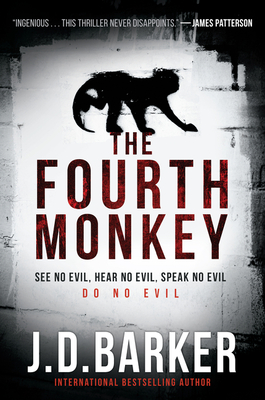 The Fourth Monkey (A 4MK Thriller) (Paperback)
Mariner Books, 9781328915399, 448pp.
Publication Date: May 29, 2018
Other Editions of This Title:
Hardcover (6/27/2017)
* Individual store prices may vary.
Description
Se7en meets The Silence of the Lambs in this dark and twisting novel from the author Jeffery Deaver called "a talented writer with a delightfully devious mind."
 
Two days to save her . . .
 
For over five years, the Four Monkey Killer has terrorized the residents of Chicago. When his body is found, the police quickly realize he was on his way to deliver one final message, one which proves he has taken another victim who may still be alive.
 
One day . . .
 
As the lead investigator on the 4MK task force, Detective Sam Porter knows that even in death, the killer is far from finished. When he discovers a personal diary in the jacket pocket of the body, Porter finds himself caught up in the mind of a psychopath, unraveling a twisted history in hopes of finding one last girl, all while struggling with personal demons of his own.
 
Zero.
 
With only a handful of clues, the elusive killer's identity remains a mystery. Time is running out as the Four Monkey Killer taunts from beyond the grave in this masterfully written fast-paced thriller.
 
"Creepy, scary . . . and impossible to put down! The Fourth Monkey is everything a thriller should be—a must-read!"—Heather Graham, New York Times best-selling author of Law and Disorder
 
"A twisted, movie-worthy serial killer thriller."—Crime by the Book
About the Author
J.D. BARKER is the internationally best-selling author of Forsaken, a finalist for the Bram Stoker Award for Superior Achievement in a First Novel, and winner of the New Apple Medalist Award. His work has been compared to Stephen King, Dean Koontz, and Thomas Harris. His 4MK Thrillers, The Fourth Monkey and The Fifth to Die, were released in June 2017 and June 2018 respectively. He has been asked by the Stoker family to coauthor the forthcoming prequel to Dracula due out in fall 2018. His novels have been translated into numerous languages and optioned for both film and television. Barker currently resides in Pennsylvania with his wife, Dayna, and their two dogs, both of whom sit outside his office door daily, eagerly awaiting his next novel.
Praise For The Fourth Monkey (A 4MK Thriller)…
"The Fourth Monkey has one of the most ingenious openings that I've read in years. This thriller never disappoints."—James Patterson, #1 New York Times bestselling author
 
"A first-rate, devilish thriller."—Eric Rickstad, New York Times bestselling author of The Names of Dead Girls and The Silent Girls

"Superbly constructed and immaculately paced, this is one of the few serial killer thrillers that bears comparison with Thomas Harris's 1981 masterpiece Red Dragon."—Daily Mail

"This book lives up to the hype....fast paced, complex and filled with twists and turns, once I picked up this novel, it was incredibly hard to put down....At this point, this novel has me feeling a serious "book hangover". And, with that ending, I am really hoping this will not be the last that I will read about these characters. 5/5 stars. A must read." — Clues and Reviews

"Bram Stoker Award finalist Barker ingeniously blends horrific images into a bizarre plotline to create this devilishly dark thriller."— Library Journal

"…Nice twists on classic thriller tropes." —Publisher's Weekly

"Superbly constructed and immaculately paced, this is one of the few serial killer thrillers that bears comparison with Thomas Harris's 1981 masterpiece Red Dragon."—Daily Mail

"J.D. Barker's second novel is a terrifying romp."—Pittsburgh Post-Gazette

"Not since Hannibal Lecter had a friend for dinner has a serial killer been so skillfully rendered on the page." —Taylor Elmore, Writer/Producer of Justified and Limitless
"Creepy, scary . . . and impossible to put down! The Fourth Monkey is everything a thriller should be—a must read!" —Heather Graham, NY Times Bestselling Author
"In the tradition of SE7EN and THE USUAL SUSPECTS, THE FOURTH MONKEY combines breakneck speed with a baffling puzzle. It has pace to die for." —David Morrell, New York Times Bestselling Author of Murder As a Fine Art and First Blood
"A chillingly delicious page-turner." —Kelley Armstrong, NY Times Bestselling Author 
"Gritty, masterful suspense…Lee Child, you've met your match." —Tosca Lee, NY Times Bestselling Author 
"Brilliant. Complicated. Psychopath. This character is truly riveting." —Marc Webb, Director of The Amazing Spiderman, Gifted, & (500) Days of Summer
"A state of the art thriller, a current nightmare, a panic wrapped up in a box." —Josh Malerman, Award Winning Author of Bird Box 
"Serial killers in fiction are a dime a dozen these days, and it takes a powerful lot of thought and crafty planning to come up with one who's unique. In THE FOURTH MONKEY Barker does just that — and gives us more than one. And he bounces his bad guys off a colorful cast of believable characters. For you puzzle fans, there's a story within the story as strange and twisty as the tale itself. But make no mistake, this is a suspense novel through and through, and it's in no way shy about it." —Jack Ketchum, Award Winning Author of Off Season and The Girl Next Door 
"This book is seriously brilliant: the best serial killer thriller I've ever read." —Lisa Milton, Executive Editor HarperCollins HQ
"Absolutely freaking brilliant! I didn't want this book to end but what a fantastic finish! This is going to be THE crime thriller of 2017." —Maxine Groves, Top Amazon and GoodReads Reviewer
"Gripping, addictive, and devilishly clever. From its opening salvo The Fourth Monkey grabs you and never lets go. J. D. Barker is a stunning new talent." —Barry Lancet, award-winning author of Tokyo Kill and Pacific Burn
"Fascinating, fast-paced thriller. J.D. Barker keeps you on the edge of your seat right up until the final twist. A gripping read!" —R.G. Belsky, author of the Gil Malloy thrillers
"In THE FOURTH MONKEY, J.D. Barker interweaves multiple mysteries into an exhilarating thriller with a compelling new villain. The complexity of the puzzles and the lighting pace funnels the reader through a Rube Goldberg contraption of twists and turns. Buckle yourself in and have fun!" — Alex Dolan, author of THE EUTHANIST
"A daring, fearless, in your face read…an easy five stars for me, no hesitation." — Novel Gossip
"A relentless thrill ride that allows readers not only inside the mind of the killer, but of the man committed to outsmarting him this one last time." — For the Love of Books
"You NEED this on your radar." — Reading in Between The Lines
"Genuinely fascinating…WOW, the ending was unbelievably brilliant." — Book Polar
"The Fourth Monkey is creepy, atmospheric and completely compelling... J. D. Barker has a knack for keeping the reader turning the pages." — Bibliophile Book Club
"Intensely vivid…it's creepy and it's startling, but it's also addictive." — Eccentric Trilogy
"Reminiscent of Stephen King and Dean Koontz, I'm adding Barker to my must-read novelists." — The Write Lovers
"Dark and twisted…a MUST read." — Bound4Escape
"The Verdict: a twisted, movie-worthy serial killer thriller." — Crime by the Book
"Dark, dirty and downright gritty, this was a clear five star read! For those of you who have the stomach for it, pre-order it now! For the more feint-hearted amongst you, pre-order it now and read it through the gaps in your fingers. This is a book not to be missed!" — The World is a Book

"I could not put it down… Barker's novel is a rollercoaster of twists and turns so put the bar down and enjoy the ride." — PopHorror