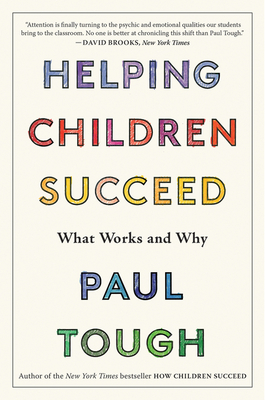 Helping Children Succeed (Paperback)
What Works and Why
Mariner Books, 9781328915429, 144pp.
Publication Date: August 7, 2018
Other Editions of This Title:
Compact Disc (5/24/2016)
Hardcover (5/24/2016)
MP3 CD (5/24/2016)
* Individual store prices may vary.
Description
From the New York Times best-selling author of How Children Succeed, an essential handbook of "informative and effective methods to help children overcome issues and thrive at home and in school"*—now including sixteen new infographics!
 
In How Children Succeed, Paul Tough introduced us to research showing that personal qualities like perseverance, self-control, and conscientiousness play a critical role in children's success.
      Now, in Helping Children Succeed, Tough takes on a new set of pressing questions: What does growing up in poverty do to children's mental and physical development? How does adversity at home affect their success in the classroom, from preschool to high school? And what practical steps can the adults who are responsible for them take to improve their chances for a positive future?
      Tough once again encourages us to think in a new way about the challenges of childhood. Mining the latest research in psychology and neuroscience, he provides us with insights and strategies for a new approach to childhood adversity, one designed to help many more children succeed.
 
* (Kirkus Reviews)
About the Author
PAUL TOUGH is the author of Helping Children Succeed and How Children Succeed, which spent more than a year on the New York Times hardcover and paperback bestseller lists and was translated into twenty-eight languages. He is also the author of Whatever It Takes: Geoffrey Canada's Quest to Change Harlem and America.He is a contributing writer to the New York Times Magazine and a regular contributor to the public-radio program This American Life. You can learn more about his work at paultough.com and follow him on Twitter @paultough.
Praise For Helping Children Succeed: What Works and Why…
"Tough's research demonstrates that all children have the capacity for self-control, grit, and success if given the right tools to work with from birth. Informative and effective methods to help children overcome issues and thrive at home and in school." — Kirkus Reviews

"The good news is that attention is finally turning to the psychic and emotional qualities our students bring to the classroom. No one is better at chronicling this shift than Paul Tough. In Helping Children Succeed, he asks how, concretely, we can improve students' noncognitive skills." —David Brooks, New York Times

"Tough (contributing writer, New York Times Magazine) builds on the research he outlined in his book How Children Succeed to address at great depth the ways adults can build success for children who face the greatest adversity. Contending that it is the environment that shapes children's ability to develop significant noncognitive skills such as perseverance and optimism, Tough presents research that shows success in these areas is possible for all children. Diving into studies and supporting their conclusions by defining real-life examples, Tough convincingly argues that classroom climate is what needs to be changed in order to shape students' experiences. While advocating for transformation of a broken system that could turn disadvantaged kids' lives around, the author also acknowledges the small things that make a difference. Tough calls upon individuals to make those small steps and shows that by looking through a different lens it is possible to see how education can be better structured for the future. Verdict: For readers concerned with finding practical ways to engage with and improve education for those children with the most to lose." — Rachel Wadham, Brigham Young University, Library Journal