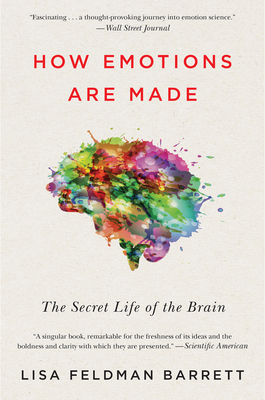 How Emotions Are Made
The Secret Life of the Brain
Paperback

* Individual store prices may vary.
Other Editions of This Title:
Digital Audiobook (3/6/2017)
Hardcover (3/7/2017)
MP3 CD (3/6/2018)
Compact Disc (3/6/2018)
Compact Disc (3/7/2017)
Description
Preeminent psychologist Lisa Barrett lays out how the brain constructs emotions in a way that could revolutionize psychology, health care, the legal system, and our understanding of the human mind.
"Fascinating . . . A thought-provoking journey into emotion science."—The Wall Street Journal
"A singular book, remarkable for the freshness of its ideas and the boldness and clarity with which they are presented."—Scientific American
"A brilliant and original book on the science of emotion, by the deepest thinker about this topic since Darwin."—Daniel Gilbert, best-selling author of Stumbling on Happiness
The science of emotion is in the midst of a revolution on par with the discovery of relativity in physics and natural selection in biology. Leading the charge is psychologist and neuroscientist Lisa Feldman Barrett, whose research overturns the long-standing belief that emotions are automatic, universal, and hardwired in different brain regions. Instead, Barrett shows, we construct each instance of emotion through a unique interplay of brain, body, and culture.
A lucid report from the cutting edge of emotion science, How Emotions Are Made reveals the profound real-world consequences of this breakthrough for everything from neuroscience and medicine to the legal system and even national security, laying bare the immense implications of our latest and most intimate scientific revolution.
Praise For How Emotions Are Made: The Secret Life of the Brain…
 "Fascinating . . . a thought-provoking journey into emotion science."  — Wall Street Journal     "I have never seen a book so devoted to understanding the nature of emotions . . . the book is down-to-earth and a delight to read. With a high level of knowledge and articulate style, Barrett delivers a prime example of modern prose in digestible chunks."  —Seattle Book Review, five stars    "Most of us make our way through the world without thinking a lot about what we bring to our encounters with it. Lisa Feldman Barrett does—and what she has to say about our perceptions and emotions is pretty mind-blowing."  — Elle    "Prepare to have your brain twisted around as psychology professor Barrett takes it on a tour of itself . . . Her enthusiasm for her topic brightens every amazing fact and theory about where our emotions come from . . . each chapter is chockablock with startling insights . . . Barrett's figurative selfie of the brain is brilliant."  — Booklist, starred review    "A well-argued, entertaining disputation of the prevailing view that emotion and reason are at odds . . . Highly informative, readable, and wide-ranging."  —Kirkus Reviews, starred review    "Barrett (psychology, Northeastern University) presents a new neuroscientific explanation of why people are more swayed by feelings than by facts. She offers an unintuitive theory that goes against not only the popular understanding but also that of traditional research: emotions don't arise; rather, we construct them on the fly. Furthermore, emotions are neither universal nor located in specific brain regions; they vary by culture and result from dynamic neuronal networks. These networks run nonstop simulations, making predictions and correcting them based on the environment rather than reacting to it. Tracing her own journey from the classical view of emotions, Barrett progressively builds her case, writing in a conversational tone and using down-to-earth metaphors, relegating the heaviest neuroscience to an appendix to keep the book accessible. Still, it is a lot to take in if one has not been exposed to these ideas before. Verdict: The theories of emotion and the human brain set forth here are revolutionary and have important implications. For readers interested in psychology and neuroscience as well as those involved in education and policy."  — Library Journal, starred review    "How Emotions Are Made did what all great books do. It took a subject I thought I understood—and turned my understanding upside down." — Malcolm Gladwell    "This meticulous, well-researched, and deeply thought-out book reveals new insights about our emotions—what they are, where they come from, why we have them. For anyone who has struggled to reconcile brain and heart, this book will be a treasure; it explains the science without short-changing the humanism of its topic."  — Andrew Solomon, best-selling author of Far from the Tree and The Noonday Demon     "A brilliant and original book on the science of emotion, by the deepest thinker about this topic since Darwin."  — Daniel Gilbert, best-selling author of Stumbling on Happiness    "Ever wonder where your emotions come from? Lisa Barrett, a world expert in the psychology of emotion, has written the definitive field guide to feelings and the neuroscience behind them."  — Angela Duckworth, best-selling author of
Harper Paperbacks, 9781328915436, 448pp.
Publication Date: March 13, 2018
About the Author
LISA FELDMAN BARRETT, PhD, is a University Distinguished Professor of Psychology at Northeastern University. She received a National Institutes of Health Director's Pioneer Award for her groundbreaking research on emotion in the brain, and is an elected member of the Royal Society of Canada. Barrett is the author of How Emotions are Made and Seven and a Half Lessons About the Brain.