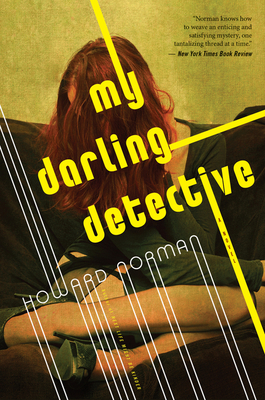 My Darling Detective (Paperback)
Mariner Books, 9781328916273, 256pp.
Publication Date: March 20, 2018
Other Editions of This Title:
Hardcover (3/28/2017)
Compact Disc (3/28/2017)
MP3 CD (3/28/2017)
Compact Disc (3/28/2017)
* Individual store prices may vary.
Description
"[An] ingeniously plotted novel . . . Norman knows how to weave an enticing and satisfying mystery, one tantalizing thread at a time." — New York Times Book Review
 
A witty, engrossing homage to noir, from National Book Award finalist Howard Norman

Jacob Rigolet, soon-to-be former assistant to a wealthy art collector, looks up from his seat at an auction—his mother, former head librarian at the Halifax Free Library, is walking almost casually up the aisle. Before a stunned audience, she flings an open jar of ink at master photographer Robert Capa's Death on a Leipzig Balcony. Jacob's police detective fiancée is assigned to the ensuing interrogation.
                  My Darling Detective delivers a fond nod to classic noir, as Jacob's understanding of the man he has always assumed to be his father unravels against the darker truth of Robert Emil, a police officer suspected of murdering two Jewish residents during an upswing of anti-Semitism in 1945. The denouement, involving a dire shootout and an emergency delivery—it's the second Rigolet to be born in the Halifax library in a three decades—is Howard Norman at his uncannily moving best.
 
"Norman works with an offhand ease and grace . . . Whimsy is balanced by moments of powerfully evoked realism." — Washington Post
 
"An unconventional, lively literary mystery." — Kirkus Reviews
About the Author
HOWARD NORMAN is a three-time winner of National Endowment for the Arts fellowships, and a winner of the Lannan Award for fiction. His novels The Northern Lights and The Bird Artist were both nominated for National Book Awards. He is also author of the novels The Museum Guard, The Haunting of L, What Is Left the Daughter,Next Life Might Be Kinder, and My Darling Detective. He divides his time between East Calais, Vermont, and Washington, D.C.
Praise For My Darling Detective…
"Norman is gifted at establishing atmosphere and character, and he pleasurably engages with old-fashioned crime-story patter … Norman pulls off what old-school noir pros like Chandler and Goodis did: mixes romance with blood in the gutter, makes sure the bad guys get theirs, and ensures the good guys don't come out unscathed. An unconventional, lively literary mystery."—Kirkus Reviews

"Jacob and Martha are delightful characters, young lovers unraveling a complex and very personal mystery. This is a crowd-pleasing old school mystery novel."—Publishers Weekly