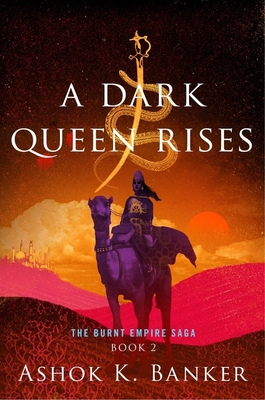 A Dark Queen Rises (The Burnt Empire)
Paperback

* Individual store prices may vary.
Other Editions of This Title:
Digital Audiobook (4/19/2021)
Description
Returning to Ashok K. Banker's brilliant epic fantasy world of the Burnt Empire, A Dark Queen Rises features Aqreen and Krushita, a mother and daughter on a quest to protect the innocent and bring down tyrants.

Queen Aqreen of Aquila leaves her husband Jarsun and flees across the Red Desert. She is determined to keep her daughter from being used by Jarsun to stake his claim to the Burning Throne of Hastinaga, seat of the all-powerful Burnt Empire. But Jarsun is vengeful and can summon legions of demoniac forces at will. The Red Desert is vast, and the journey dangerous.
 
Aqreen and Krushita's caravan of ten thousand wagons will take several years to reach the only safe harbor, the queendom of Reygar. Jarsun's pursuit is relentless and his vengeance terrible, but hope shines from the growing powers of little Krushita herself, along with the four-armed, twin-bodied Vanjhani wagon train leader and their band of valiant desert militia. Fierce battles are in store.
 
There are other players in this great game of demigods and mortals, each pursuing their own agendas. The powerful seer-mage Vessa seeks to join Krushita's talents with that of Drishya, an avatar destined to confront and kill Tyrak, Jarsun's diabolical son-in-law. Ladislew the assassin aligns with Tyrak for her own reasons. All paths culminate in a feverish finale on the hot sands of Reygar, as father, mother, and daughter confront each other in one ultimate showdown.
Praise For A Dark Queen Rises (The Burnt Empire)…
PRAISE FOR A DARK QUEEN RISES "Demigods, gods, sages, and monsters of all kinds make the world of the novel a complex and fascinating place to inhabit. With fantastical creatures and settings, the politics of the novel are that much more layered. Readers who enjoyed the S.A. Chakraborty's Daevabad Trilogy and Ken Liu's ongoing Dandelion Dynasty will enjoy the complexity of story and setting of this saga." —Booklist PRAISE FOR UPON A BURNING THRONE "Ashok K. Banker is a pioneer of modern Indian fantasy, retelling the country's classic mythology fables. Upon a Burning Throne has been called "the Indian Game of Thrones." [W]ith depictions of sweeping mountain ranges, vast deserts, lush forests and cities full of colorful people, it's a vividly evocative journey. [For] those looking for something a bit more substantial, a story that promises a grand and epic scale exploring a non-Western culture in a vivid setting, Upon a Burning Throne is ideal." —Los Angeles Times "[A] sweeping and compelling epic, in which gods, demigods, strange powers, seers, and just plain humans all struggle for power and to make sense out their lives and fate in a world where one is never sure anything is either certain or what it appears to be." —L.E. Modesitt, Jr. bestselling author of the Saga of Recluce and the Imager Portfolio "[An] epic fantasy world full of constantly warring tribes, matriarchal societies, powerful sages that pop out of lakes, and the gods and goddesses very close to all the action. In this rich environment, various perspectives from the vast cast of characters are used to tell this immersive story from the internationally best-selling Banker"  —Booklist, starred review  "Readers will hardly be able to pull themselves away from the layered story lines and well-developed characters. . .set in a vivid world inspired by India and the Middle East, mythology and monarchy, filled with enticing narration and action." —Library Journal, starred review  "Ambitious and highly readable . . . Banker (the Ramayana series) impressively depicts the loyalties and rivalries of a huge cast while moving his enormous story at cinematic pace through scales personal, political, and cosmic . . . Fans of doorstopper epic fantasy will devour this tale of gods and princes." —Publishers Weekly   "Upon A Burning Throne is a tale told with masterful control over the narrative. The pace never slackens and the story is never offered up at the altar of world-building details. Upon A Burning Throne is undoubtedly a compelling read—it is one of those 'on-the-edge-of-your-seat' novels which keeps the reader hooked on right till the end. I would, therefore, recommend it to all lovers of fiction." —A Hindu's View —
Harper Voyager, 9781328916297, 528pp.
Publication Date: April 20, 2021
About the Author
ASHOK K. BANKER is the author of more than seventy books, including the internationally acclaimed Ramayana series. Their works have all been bestsellers in India and have sold around the world. They live in Southern California.