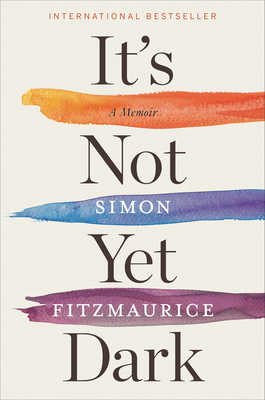 It's Not Yet Dark (Hardcover)
A Memoir
Houghton Mifflin Harcourt, 9781328916716, 176pp.
Publication Date: August 1, 2017
Other Editions of This Title:
Paperback (3/6/2018)
Paperback (1/8/2015)
Compact Disc (8/1/2017)
Compact Disc (8/1/2017)
MP3 CD (8/1/2017)
* Individual store prices may vary.
Description
"A fiercely eloquent testament to making the most out of every moment we're given."
 —People, Book of the Week

A luminous memoir in the tradition of The Diving Bell and the Butterfly and a #1 bestseller upon its initial release in Ireland, a young filmmaker gives us "a story of courage, of heart, of coming back for more, of love and struggle and the power of both" (Joseph O'Connor).

In 2008, Simon Fitzmaurice was diagnosed with ALS, or Lou Gehrig's disease. He was given four years to live. In 2010, in a state of lung-function collapse, Simon knew with crystal clarity that now was not his time to die. Against all prevailing medical opinion, he chose to ventilate in order to stay alive.
 
In It's Not Yet Dark, the young filmmaker, a husband and father of five small children, draws us deeply into his inner world. Told in simply expressed and beautifully stark prose, it is an astonishing journey into a life that, though brutally compromised, is lived more fully than most, revealing at its core the potent power love has to carry us through the days.
 
Written using an eye-gaze computer, It's Not Yet Dark is an unforgettable book about relationships and family, about what connects and separates us as people, and, ultimately, about what it means to be alive.
About the Author
SIMON FITZMAURICE was an award-winning writer and film director. His debut memoir, It's Not Yet Dark, was a #1 bestseller upon its release Ireland, has been nominated for the Bord Gáis Book of the Year Award, and was ranked #2 in Liveline's Writer's Book of the Year. His films have screened at film festivals all over the world and won prizes at home and abroad, including Best Short Film at the Cork Film Festival and the Belfast Film Festival (twice); the Grand Jury Prize at the Opalcine Film Festival, Paris; the Jimmy Stewart Memorial Award at the Heartland Film Festival; and Jury Award at the Palm Springs International Film Festival. His short film The Sound of People was selected to screen at the prestigious Sundance Film Festival. Simon held honors master's degrees in both Anglo-Irish literature and drama, and film theory and production. His short fiction has been short-listed for the Hennessy Literary Award, and his poetry has appeared in the quarterly publication West 47. His first feature film, My Name Is Emily, was just released in both the UK and the United States. He died in October 2017. He is survived by his wife, Ruth; their five children, Jack, Raife, Arden, Sadie, and Hunter; and their basset hound, Pappy.
 
Praise For It's Not Yet Dark: A Memoir…
International Bestseller
A People Book of the Week
A Barnes & Noble Discover Pick
A Barnes & Noble Best Biography of the Year
An iBooks Best Book of the Month
An Amazon Best Memoir of the Month

"A fiercely eloquent testament to making the most out of every moment we're given."
 —People, Book of the Week

"Beautifully written. Utterly life-affirming."
 —Alan Rickman
 
"A beautiful love story - in its essence that's what this is. Survival stories are not about surviving, they're inherently about what makes a survivor push through. A desire to remain in the light of all creation, even as a darkening is taking place. A darkening which happens to us all."
—Colin Farrell

"[A] gripping, affecting, sometimes funny read by a natural-born storyteller with something to say about the weight and the value of a life...If you need a story of courage, of heart, of coming back for more, of love and struggle and the power of both, It's Not Yet Dark could be the elusive thing you're after."
—Joseph O'Connor

"Less a memoir of dying than a memoir of refusing to die...Vibrant."
—Minneapolis Star-Tribune

"In brief, often luminous vignettes, Fitzmaurice tells pieces of his story...Brave and honest, his memoir provides a fierce, sparkling constellation of small lights that gleam against the gathering dark."
—Shelf Awareness

"Powerful and moving...The heart of this inspirational book is Fitzmaurice's perseverance ('They gave me my life and I wouldn't give it up') and his unflagging belief 'in the power to take what life throws at you and slowly to come back, to take all you have and not be crushed by sadness and loss.'"
—Publishers Weekly

"A fine and heartfelt memoir from an author hopeful in his determination to endure against the odds: 'What remains is desire.'"
—Kirkus

"Darkly funny and emotional, Fitzmaurice's story is as inspirational as memoirs get – he even wrote the entire book with an eye-gaze computer. This is a true story about family, health, and the true meaning of life that you won't want to miss."
—BookTrib

"A fierce, tender, and compelling examination of what it means to live."
—The Brooklyn Bugle

"Daringly, brutally poignant, It's Not Yet Dark is the closest thing to pure love that I have read since The Shack and just as memorable...Like an Irish mist, It's Not Yet Dark unveils all pretense of living with an illness that kills daily, that can terminate life at any moment, leaving the brilliance and elegance of a writer at his best, peeling his life like an onion, living with presence and love at every opportunity. Thrillingly, achingly authentic prose that reveals an inner life of one human being with the courage to live fully every single moment of his life.  Compromised as it is, Simon Fitzmaurice's life is a complete and miraculous act of loving life."
—The Review Broads

Select Irish Praise for It's Not Yet Dark
 
#1 Bestseller
 
 "Part memoir, part stark document of the way [Simon] and his family have dealt with motor neuron disease, and part fierce celebration of being alive, It's Not Yet Dark is powerful, gripping and compelling."
—The Irish Times
 
"Sparsely and beautifully written...the human spirit and will to live shines out of these pages...By the time you reach the end of this book, with tears of admiration, sadness and frustration in your eyes, the question is no longer why would you want to live...but how could you not."
—Irish Independent
 
"The word 'inspirational' is over-used, but if ever a book deserved this epithet, this is it."
—Sunday Independent