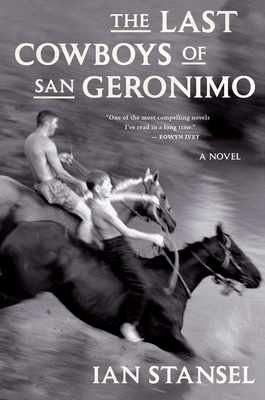 The Last Cowboys of San Geronimo (Paperback)
Mariner Books, 9781328918291, 208pp.
Publication Date: June 12, 2018
Other Editions of This Title:
Compact Disc (7/4/2017)
MP3 CD (7/4/2017)
Hardcover (7/4/2017)
Pre-Recorded Audio Player (8/4/2017)
* Individual store prices may vary.
Description
"One of the most compelling novels I've read in a long time." —Eowyn Ivey
 
"Shares the trail with the likes of Edward Abbey, Cormac McCarthy, and Larry McMurtry." —Craig Johnson, best-selling author of the Walt Longmire Mysteries, the basis for the hit show Longmire
 
When Silas Van Loy flees home on horseback to avoid capture for his brother's murder, he is followed by both the police and his brother's wife, Lena, who is intent on exacting revenge. She reluctantly lets her trusted stable assistant join her in a journey across the wilds of Northern California in the hopes of catching Silas for one final showdown. Stansel follows the chase and shares the story of the brothers' rise from hardscrabble childhood to their reign as the region's preeminent horse trainers, tracking the tense sibling rivalry that ultimately leads to the elder's death.

A "fast-paced, moving narrative in which family loyalty is tested, broken, and redeemed in unexpected ways,"* The Last Cowboys of San Geronimo will satisfy fans of Kent Haruf, Charles Portis, Molly Gloss, and Smith Henderson, and establish Stansel as a new voice in this grand tradition.

*BookPage
About the Author
IAN STANSEL is the author of the collection of stories Everybody's Irish, a finalist for the PEN/Bingham prize for debut fiction. His fiction has appeared in numerous literary journals, including Ploughshares, Joyland, Ecotone, and Cincinnati Review. His nonfiction has appeared in Salon,CutBank, and The Good Men Project. He holds an MFA in fiction writing from the Iowa Writers' Workshop and a PhD in literature and creative writing from the University of Houston, where he was the editor of Gulf Coast.He currently serves as assistant professor of creative writing at the University of Louisville.
 
Praise For The Last Cowboys of San Geronimo…
One of Amazon's Top 100 Books of the Year
One of Library Journal's High-Profile Debuts

"The Last Cowboys of the San Geronimo is a contemporary Western with biblical implications chocked with passion, regret and the things that work on you like a burr under a saddle blanket. Ian Stansel has written a novel that shares the trail with the likes of Edward Abbey, Cormac McCarthy, and Larry McMurtry."
—Craig Johnson, New York Times-bestselling author of the Walt Longmire Mysteries, the basis for Netflix original series Longmire

"A taut and powerful modern Western. I picked up The Last Cowboys of San Geronimo and did not put it down again until I had read the last, moving sentence. Follow Lena on horseback as she pursues a killer through the wilds of Northern California, and in the end you will find yourself someplace unexpected. One of the most compelling novels I've read in a long time."
—Eowyn Ivey, author of the To the Bright Edge of the World and the Pulitzer finalist The Snow Child

"Written with the headlong pace of the cross-country manhunt it describes, The Last Cowboys of San Geronimo fuses the classic Cain-and-Abel tale with the gripping tension of a modern revenge thriller. From the groomed world of equestrian eventing to the tough mountain trails of Northern California, Ian Stansel sends a resilient horsewoman in blood-hot pursuit of personal justice, and at the same time shows us that the redemptive partnership of horse and rider can transcend even the most bitter of animosities."
—Malcolm Brooks, author of Painted Horses

"Ian Stansel's debut dives headlong into the anachronism of the modern cowboy—a beautiful and brutal novel about time: the expanse of it, the burden of it, but, more than anything, the crushing realization when it grows short."
—James Scott, author of The Kept

"Although set in the twentieth-first century, this fine novel has a mythic power and resonance. Ian Stansel is a gifted young writer who starts his novel at a gallop and never lets up until the story's final reckoning."
—Ron Rash, author of Serena, Above the Waterfall, The Risen, and more

"Ian Stansel's debut novel is so rich in evocative detail and gripping incident that I thought at several moments I was riding fast next to its sharply drawn characters across rough ground.  Like All the Pretty Horses before it, The Last Cowboys of San Geronimo inks an indelible portrait of a hard, gorgeous world that is both timeless and in deep, momentous flux. I'm grateful to Mr. Stansel for having written it."
—Laird Hunt, author of Neverhome and The Evening Road

"With his debut novel, The Last Cowboys of San Geronimo, Ian Stansel confidently updates the American Western while honoring its most daring storytellers: Charles Portis and Larry McMurtry. In taut, cinematic prose, Stansel considers the romance of frontier justice, the seductive power of a good old-fashioned horse chase/manhunt and the heartbreaking costs of fraternal rivalry. For me, the true star of The Last Cowboys of San Geronimo is Lena Van Loy, a stoic horsewoman who emerges as a fearless rider, a clear-headed tracker and a compassionate but avenging wife. With plenty of true grit, plot twists and reversals of fortune, The Last Cowboys of San Geronimo builds toward an unforgettable showdown.A great read beautifully written!"
—Amber Dermont, New York Times-bestselling author of The Starboard Sea and Damage Control

"Beautifully rendered . . . A captivating novel, elegantly spare in language but big in purpose."​
—Library Journal, *starred* review

"A fierce and luminous study of sibling rivalry and complicated love, intensified by the rush of hooves."
—Library Journal, Pre-pub Alert

"Stansel writes well and moves effortlessly from past to present and from the perspectives of Silas and Frank to that of Lena. A stirring narrative of hostility, pursuit, and the desire for vengeance."
—Kirkus Reviews

"Stansel updates the age-old family feud in a surprisingly poignant way . . . powerful . . . a fast-paced, moving narrative in which family loyalty is tested, broken and redeemed in unexpected ways."
—BookPage

"To find a story set in the horse world, entwined with horses and horse people, yet without reading like the typical 'horse book'? That's a rare thing indeed. That's exactly the balance that Ian Stansel has struck with care in his novel . . . The Last Cowboys of San Geronimo is one of the most riveting books I've picked up in a long time."
—HorseNation

"Extremely impressive and eminently readable . . . One of those rare books that is relatively short yet seems much deeper and longer in all the best possible ways . . . A joy to read from beginning to end."
—Bookreporter