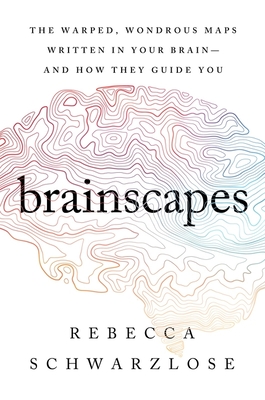 Brainscapes
The Warped, Wondrous Maps Written in Your Brain—And How They Guide You
Hardcover

* Individual store prices may vary.
Other Editions of This Title:
Digital Audiobook (6/21/2021)
Paperback (6/21/2022)
Praise For Brainscapes: The Warped, Wondrous Maps Written in Your Brain—And How They Guide You…
"Enlightening and ambitious… a book that travels into rich terrain, charted by a smart and eager tour guide." —The New York Times Book Review "Schwarzlose's presentation of cutting-edge science is consistently accessible and concise, as is her historical perspective on early brain research... This is deeply enjoyable and thoroughly researched." —Publishers Weekly, starred review "The scope of the book is staggering, as is the potential of technology's role in decoding minds, and yet Schwarzlose successfully and enthusiastically relays the research in relevant, understandable, and absorbing language." —Kirkus "[A] potentially dense and impenetrable subject [that] is illuminated and rendered comprehensible in Schwarzlose's skilled hands. A fascinating in-depth exploration of the maps contained within our brains." —Library Journal "Rebecca Schwarzlose is a neuroscientist with a novelist's literary flair. Brainscapes is a profoundly illuminating account of how the brain works—and of how the maps within our heads determine what we see,  recognize, remember, and feel. It's about miracles, and it's a complete inspiration."—Cass R. Sunstein, author of Too Much Information "This book is the Lonely Planet travel guide to the brain. With humility, humor, and the familiarity of a local, Rebecca Schwarzlose takes you by the hand and shows you around some of the strangest landscapes of the cortex. In Brainscapes, the brain becomes an open atlas, full of illuminating maps—just one of many enlightening metaphors in this meticulously documented and artfully decorated book."—Stanislas Dehaene, author of How We Learn and Consciousness and the Brain  "In lively prose, Schwarzlose introduces you to your inner cartographer: a complex brain that continuously constructs shifting maps of the world, charted from the perspective of your own body. These maps are not just created by you—they are you. They conjure what you feel, what you remember, and what you do."—Lisa Feldman Barrett, author of How Emotions Are Made and Seven and a Half Lessons About the Brain "In Brainscapes, Rebecca Schwarzlose takes the reader on a journey through the brain by explaining all the ways it uses 'maps' to help us experience the world and act in it.  I thoroughly enjoyed this broad in scope, and beautifully written, book."—Joseph LeDoux, author of The Deep History of Ourselves "A beautiful book about one of the most fundamental properties of the brain—its ability as a mapmaker. The meat in our heads organizes and controls everything we do, from perception to emotion, action to cognition, by mapping complex information into simple spaces. Brainscapes explains that deep truth in clear, compelling language. It's a fascinating, well-told story, worth the read."—Michael Graziano, author of Rethinking Consciousness "Brainscapes will change how you think about the brain and how you understand your own mind. This is a fascinating and original exploration of the physical principles that enable you to do all that you do, and be who you are."—Tali Sharot, author of The Influential Mind —
Mariner Books, 9781328949967, 320pp.
Publication Date: June 15, 2021
About the Author
REBECCA SCHWARZLOSE is a neuroscientist at Washington University in Saint Louis. She holds a PhD in neuroscience from MIT and has served as chief editor of the scholarly journal Trends in Cognitive Sciences. She lives in Saint Louis.