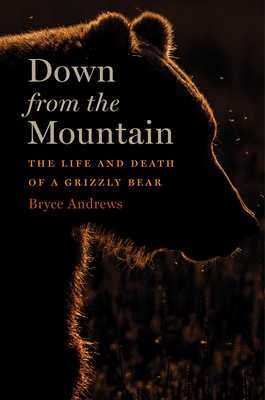 Down from the Mountain
The Life and Death of a Grizzly Bear
Hardcover

* Individual store prices may vary.
Other Editions of This Title:
Paperback (4/14/2020)
Compact Disc (4/16/2019)
Description
"Andrews' wonderful Down from the Mountain is deeply informed by personal experience and made all the stronger by his compassion and measured thoughts... Welcome and impressive work." —Barry Lopez

Winner of the Banff Mountain Book Competition's Mountain Environment & Natural History Award

The story of a grizzly bear named Millie: her life, death, and cubs, and what they reveal about the changing character of the American West
 
The grizzly is one of North America's few remaining large predators. Their range is diminished, but they're spreading across the West again. Descending into valleys where once they were king, bears find the landscape they'd known for eons utterly changed by the new most dominant animal: humans. As the grizzlies approach, the people of the region are wary, at best, of their return.
 
In searing detail, award-winning writer, Montana rancher, and conservationist Bryce Andrews tells us about one such grizzly. Millie is a typical mother: strong, cunning, fiercely protective of her cubs. But raising those cubs—a challenging task in the best of times—becomes ever harder as the mountains change, the climate warms and people crowd the valleys. There are obvious dangers, like poachers, and subtle ones as well, like the corn field that draws her out of the foothills and sets her on a path toward trouble and ruin.
 
That trouble is where Bryce's story intersects with Millie's. It is the heart of Down from the Mountain, a singular drama evoking a much larger one: an entangled, bloody collision between two species in the modern-day West, where the shrinking wilds force man and bear into ever closer proximity.
Praise For Down from the Mountain: The Life and Death of a Grizzly Bear…
Praise for Down from the Mountain
Grand Prize Winner of the Banff Mountain Book Competition
Montana Book Award Honor Title
An Amazon Best Science Title of 2019
A Literary Hub Most Anticipated Title of 2019
An EcoWatch Best Book of April
A Missoulian Best Book of April
A Chicago Review of Books Best Book of April

"The two sides of Bryce Andrews — enlightened rancher and sensitive writer — appear to make a smooth fit...Precise and evocative prose."
—Washington Post

"Andrews's writing about wilderness is much like that of author Rick Bass, who displays both a healthy reverence for ecology and an easy way of talking about it. This story is not just about Andrews's shift from rancher to conservationist. It's an ode to wildness and wilderness in the form of grizzlies. It's about the tightrope bears walk between living in their mountainous territory, consuming pine nuts, army cutworm moths, and winterkill, versus coming down the mountain to scavenge in human territory. It's about the resulting relationship between humans and grizzlies when they live in close proximity."
—Outside

"[A] soulful new exegesis on ursid-hominid relations...Down From The Mountain showcases a writer whose talents have fully matured...Down From the Mountain belongs in the pantheon of contemporary conservation writing. It is easy to forget, when arguing over the fate of wildlife, that populations are composed of thinking, feeling individuals; in his sensitive treatment of an ill-fated ursid, Andrews breaches the fences that guard our compassion."
—Ben Goldfarb, High Country News

"Bryce Andrews' wonderful Downfrom the Mountain is deeply informed by personal experience and made all the stronger by his compassion and measured thoughts. He outlines clearly the core of a major problem in the rural American West—the disagreement between large predatory animals and invasive modern settlers—without disrespect and without sentimentality. His book is welcome and impressive work."
—Barry Lopez

"In some of the clearest prose the state of Montana has produced, this high-octane story captures the marvel that is a grizzly giving birth in the high wild, follows her down into the human interface, and floods us with the heightened awareness and humbling unease we feel in the presence of Ursus arctos. When the hubris of man-unkind then threatens his protagonists, Andrews lays his life on the line in a sustained attempt to protect them, and the suspense of the telling comes to rival a great crime thriller. Rife with lyrical precision, first-hand know-how, ursine charisma, and a narrative jujitsu flip that places all empathy with his bears, Down from the Mountain is a one-of-a-kind triumph even here in the home of Doug Peacock and Douglas Chadwick."
—David James Duncan, author of The River Why and The Brothers K

"Would that we had more nature writing like Bryce Andrews's fantastic second book, Down from the Mountain. Part biography of the Mission Valley in Montana, informed by the Blackfeet and Salish histories rooted there, it tells a moving modern tale of how ranchers and big predators overlap uneasily on that land today...Down from the Mountain eschews easy moral scrimmaging...A subtle and beautifully unexpected book...Readers hungry for yet another torch bearer to the ways of thinking of the wild that Barry Lopez and Leslie Marmon Silko made possible should look no further."
—Literary Hub

"A cautionary tale of human-grizzly coexistence (or lack thereof). The book helps to illustrate the broader issues affecting grizzlies as their populations grow, pushing them closer and closer to humans."
—EcoWatch

"The reader learns the history of the Salish land, and the varied newcomers to the valley and efforts to preserve and protect the grizzlies."
—The Missoulian, "Montana Bookshelf"

"Beautifully written...Andrews conveys his passion for the west's landscape and inhabitants through his sensitive writing, which avoids either anthropomorphizing the wildlife or villainizing ordinary people...His book is a testament to his compassion."
—BookPage

"Andrews' writing reaches high peaks in Down from the Mountain...Andrews artfully describes the awe inspired by grizzlies...Down from the Mountain's prose ranges in tone from graceful to elegiac to gripping."
—Pacific Northwest Inlander

"In stunning prose, as powerful as the grizzly itself, Andrews's draws the reader into the mysterious lives of these bears. From deep in their pungent winter dens we emerge with them into the spring light, pad along forest trails, smell every molecule of wild and human. We are also the farmer, sweat-soaked, protecting the sweet corn. When these two worlds—bear and human—collide, all is unpredictable and precarious. Down from the Mountain will sear its beauty and sorrow into your soul. Required reading for all Homo sapiens."
—Elisabeth Tova Bailey, author of The Sound of a Wild Snail Eating

"The fluidity of Andrews' imagination and the reality of his time on the ground with people and bears make this book a piece of true history. He is not a journalist, but a participant with skin in the game, who happens to be an excellent writer. Putting up fence along the porous line between humans and big, foraging bears, Andrews is the one you'd want telling this story."
—Craig Childs, author of The Animal Dialogues and Atlas of a Lost World

"In Down from the Mountain, Bryce Andrews walks the harrowing line between wilderness and civilization—as in literally walks it, recounting his own efforts to keep a space in the world for the untamed creatures that remind us who we are in the first place. Writing with a keen empathy for both the great grizzlies of Montana's Mission Mountains, and the farmers and wildlife officers coping in the valley below, this book is by turns heartbreaking and hopeful, even while it zings along with the high-stakes pace of a thriller. It's as true as it gets."
—Malcolm Brooks, author of Painted Horses

"Returning home from ten days in the backcountry, I devoured this fabulous and feral book in a single sitting and found myself utterly immersed in the 'unforgiving arcadia' that is our vanishing West.  'Bears are made of the same dust as we,' John Muir reminds us, and this marvelous narrative, even in passages devoid of humans—perhaps especially in those passages—draws us into communion with these uncompromisingly powerful wild creatures, to the heartbreaking consequences of our inevitable encounters with them, and to one man's profound compassion for them. For two decades as a hunter, angler and hiker I've traversed the very country described herein. I have never seen it with such sustained clarity as through the vital lens of Bryce Andrews' luminous prose."
—Chris Dombrowski, author of Body of Water

"A thoughtful story of bears, humans, and their tragic interactions...A gem of environmental writing fitting alongside the work of Doug Peacock, Roger Caras, and other champions of wildlife and wild land."
—Kirkus Reviews, starred

"Andrews, a conservationist and rancher in Montana's Mission Valley, examines dramatic changes in the local bear population, which once 'lived a grizzly's solitary life,' but now show up regularly near human dwellings searching for food, in his compassionate study...Andrews's well-written cautionary tale leaves readers with the sobering message that humans must [modify their behavior], if they are to be responsible stewards of nature."
—Publishers Weekly

"This fascinating, well-researched, and lyrical memoir will appeal to conservationists, those curious about large predators, and readers who relish stories of the West."
—Library Journal

"[A] lyrical exploration of an attempt to accommodate two disparate goals—the dairy farmer's need for the corn to feed his cattle and the grizzly's need to eat and fatten up during the short Montana summer…Andrews' empathic writing turns Millie's story into the embodiment of modern compromise with apex predators."
—Booklist
Houghton Mifflin Harcourt, 9781328972453, 288pp.
Publication Date: April 16, 2019
About the Author
BRYCE ANDREWS's debut, Badluck Way, was the 2014 winner of the Barnes & Noble Discover Great New Writers Award, the 2014 Reading the West Book Award for nonfiction, the 2014 High Plains Book Award for both nonfiction and debut book, and a finalist for the 2014 Washington State Book Award. Born in 1983 and raised in Seattle, Washington, Bryce Andrews migrated east toward the American West. Having spent a decade in the high valleys of Montana, he remains fascinated by the complex and reciprocal relationship between humans, wild animals, and place.