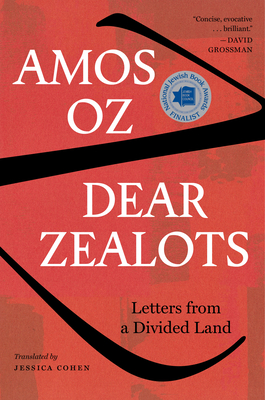 Dear Zealots (Hardcover)
Letters from a Divided Land
Houghton Mifflin Harcourt, 9781328987006, 160pp.
Publication Date: November 13, 2018
Other Editions of This Title:
Paperback (11/12/2019)
* Individual store prices may vary.
Description
An urgent and deeply necessary work, Dear Zealots offers three powerful essays that speak directly to our present age, on the rise of zealotry in Israel and around the world. 

"Concise, evocative . . . Dear Zealots is not just a brilliant book of thoughts and ideas—it is a depiction of one man's struggle, who for decades has insisted on keeping a sharp, strident and lucid perspective in the face of chaos and at times of madness." — David Grossman, winner of the Man Booker International Prize

From the incomparable Amos Oz comes a series of three essays: on the universal nature of fanaticism and its possible cures, on the Jewish roots of humanism and the need for a secular pride in Israel, and on the geopolitical standing of Israel in the wider Middle East and internationally.

Dear Zealots is classic Amos Oz—fluid, rich, masterly, and perfectly timed for a world in which polarization and extremism are rising everywhere. The essays were written, Oz states, "first and foremost" for his grandchildren: they are a patient, learned telling of history, religion, and politics, to be thumbed through and studied, clung to even, as we march toward an uncertain future.
About the Author
AMOS OZ (1939 – 2018) was born in Jerusalem. He was the recipient of the Prix Femina, the Frankfurt Peace Prize, the Goethe Prize, the Primo Levi Prize, and the National Jewish Book Award, among other international honors. His work has been translated into forty-four languages. 
Praise For Dear Zealots: Letters from a Divided Land…
A Finalist for the National Jewish Book Award—Modern Jewish Thought and Experience

"Daring ridiculousness may be American Judaism's most important survival tool, the willingness to reach deep and to search both within the tradition and outside it in order to make the religion feel alive...the Israeli novelist Amos Oz praises this quality of Jewishness, the 'anarchist core, the rebellious gene' that prompts constant interpretation, reinterpretation and counterinterpretation."—Gal Beckerman, New York Times Book Review

"Amos Oz is one of Israel's most prolific, celebrated writers, capturing the past and exploring the present in more than 30 novels, dozens of essays and hundreds of articles. But his latest book, Dear Zealots: Letters from a Divided Land, may contain his most urgent message yet."—Ruth Eglash, Washington Post

"Readers unfamiliar with Israeli author and public intellectual Oz will find this collection of three essays, adapted from a series of lectures, a good introduction to his nuanced perspective...Clear-eyed...Providing a worthy companion volume to Yossi Klein Halevi's Letters to My Palestinian Neighbor, Oz's book leaves readers with a strong message about the need for a greater societywide openness to doubt and ambiguity."—Publishers Weekly, Starred Review

"Three passionate lectures about the state of politics in Israel. In this rumination about the country he loves and whose policies make him ashamed, novelist and peace activist Oz sounds humorous, mournful, enraged, and uplifting...Oz maintains there's rarely been a better moment to make peace than now...Slender but forceful."—Kirkus Reviews

"Concise, evocative . . . Dear Zealots is not just a book of thoughts and ideas—it is a depiction of one man's struggle, who for decades has insisted on keeping a sharp, strident and lucid perspective in the face of chaos and at times of madness."—David Grossman

"Celebrated Israeli novelist Oz writes nonfiction, too, including the three essays collected here, relevant to our polarized, populist world: they treat the nature of fanaticism, the Jewish roots of humanism (and the need for a secular appreciation of Israel), and Israel's geopolitical standing. Oz says he wrote them for his grandchildren, but they're good for us all."—Barbara Hoffert, Library Journal Pre-Pub Alert