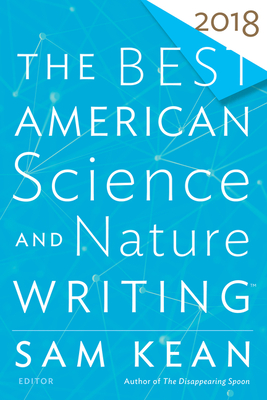 The Best American Science and Nature Writing 2018 (The Best American Series ®)
Paperback

* Individual store prices may vary.
Description
"This is one of the most exciting times in the history of science," New York Times-bestselling author Sam Kean proclaims in his introduction to The Best American Science and Nature Writing 2018. "Things aren't perfect by any means. But there are more scientists making more discoveries in more places about more things than ever before." The twenty-six pieces assembled here chart the full spectrum of those discoveries. From the outer reaches of space, to the mysteries of the human mind, to the changing culture in labs and universities across the nation, we see time and again the sometimes rocky, sometimes revelatory road to understanding, and along the way catch a glimpse of all that's left to learn.
 
Mariner Books, 9781328987808, 368pp.
Publication Date: October 2, 2018
About the Author
Sam Kean spent years collecting mercury from broken thermometers as a kid. His stories have appeared in
The Best American Science and Nature Writing
,
The Atlantic
,
The New York Times Magazine
,
Mental Floss
,
Slate
, and
Psychology Today
, among other places, and his work has been featured on "Radiolab" and NPR's "All Things Considered," among other shows. His books
The Disappearing Spoon
and
The Violinist's Thumb
were national bestsellers, and both were named Amazon "Top 5" science books of the year.
The Disappearing Spoon
was nominated by the Royal Society for one of the top science books of 2010, while both
The Violinist's Thumb
and
The Dueling Neurosurgeons
were nominated for PEN's literary science writing award. He lives in Washington, D.C.
TIM FOLGER is a contributing editor at Discover and writes about science for several magazines. He lives in New Mexico.