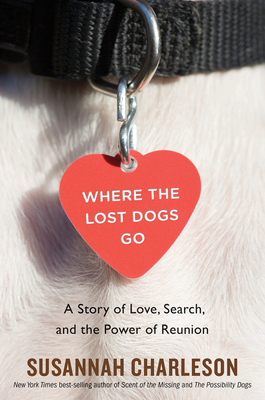 Where the Lost Dogs Go
A Story of Love, Search, and the Power of Reunion
Hardcover

* Individual store prices may vary.
Other Editions of This Title:
Digital Audiobook (6/3/2019)
Paperback (6/16/2020)
MP3 CD (6/4/2019)
Compact Disc (6/4/2019)
Compact Disc (6/4/2019)
Description
From a New York Times best-selling author, an important and heartfelt exploration into the world of lost dogs and the power of reunion

One in six dogs go missing at some point in their lives, leaving bereft owners to search high and low, hang missing posters, check shelters, and hope for good news. But amid these grim statistics, countless happy endings are forged. Tails wag again. Best friends are reunited.
 
In Where the Lost Dogs Go, Susannah Charleson, author of Scent of the Missing and a trusted chronicler of the human/animal bond, dives headlong into the world of missing dogs. The mission to reunite lost pets with their families starts with Susannah's own shelter rescue, Ace, a plucky Maltese mix with a mysterious past who narrowly survived months wandering lost. While Susannah formally studies animal behavior, lost-pet search tactics, social media strategies, and the psychology of loss, Ace also steps up for training. Cheerful and resourceful, Ace has revealed a nose for the scent of lost pets, and together they help neighbors and strangers in their searching.
 
In Where the Lost Dogs Go, readers take to the streets beside Susannah to bring home a host of missing pets. Along the way, Susannah finds a part of herself also lost. And when unexpected heartbreak shatters her own sense of direction, it is Ace—the shelter dog that started it all—who leads Susannah home. Inquisitive, instructive, heartrending, and hopeful, Where the Lost Dogs Go pays tribute to the missing dogs—and to the found—and to the restless space in between.
Praise For Where the Lost Dogs Go: A Story of Love, Search, and the Power of Reunion…
"I have known lost people who could not have found themselves without the love of a dog. Our love for them and their love for us animates Where the Lost Dogs Go, a beautifully written and deeply felt memoir that I read with delight."
—Dean Koontz, best-selling author of A Big Little Life

"A riveting book from Susannah Charleson, whose exquisite writing is an inspiration to us all, and whose courage and stamina knows no bounds. Dog lovers won't be able to put it down, and readers of great writing will be grateful that they picked it up."
– Patricia B. McConnell, best-selling author of The Education of Will and For the Love of a Dog

"With touching and thought-provoking honesty, Where the Lost Dogs Go describes a corner of the canine world—missing dogs—that many of us will never visit.  But if our dogs do unfortunately wander off, we can only hope that individuals like search-and-detection expert Susannah Charleson, and her dogs Puzzle and Ace, are there to help bring home our beloved, lost, four-legged friends."
—Ted Kerasote, author of Merle's Door and Pukka's Promise

"Susannah Charleson brings home another outstanding book of love and loss, searching and finding. With considerable canine insight, she tracks down dogs-on-the-loose in pursuit of happy reunions. Full of love and compassion, Where the Lost Dogs Go helps you find that nice warm place in your heart."
—Peggy Frezon, author of The Dog in the Dentist Chair

"Where the Lost Dogs Go is a compelling mystery, an amazing how-to manual—and a moving memoir. Best-selling author Susannah Charleson has crafted a wonderful book that defies easy categories. It's about lost dogs and their often equally lost humans. It's about a challenging kind of search-and-rescue work that kept me riveted and taught me new things about animal behavior. But at its heart, Where the Lost Dogs Go is about a wounded, complex, loving family that finds meaning and solace in the missing cats and canines who find warm, safe harbor with them."   
– Cat Warren, best-selling author of What the Dog Knows.​
Mariner Books, 9781328995056, 320pp.
Publication Date: June 4, 2019
About the Author
SUSANNAH CHARLESON is the author of the New York Times bestseller Scent of the Missing and The Possibility Dogs. A flight instructor, service dog trainer, and canine search-and-rescue team member, Charleson began a non-profit organization called The Possibility Dogs, which rescues, trains, and places dogs with people suffering "unseen" disabilities. She lives in Texas with her ever-growing brood of animals—canine, feline, anything that needs rescuing.
 
or
Not Currently Available for Direct Purchase