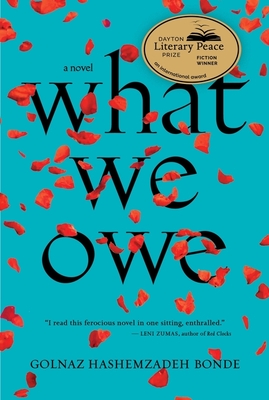 What We Owe (Paperback)
Mariner Books, 9781328995087, 208pp.
Publication Date: October 16, 2018
* Individual store prices may vary.
Description
Winner of the Dayton Literary Peace Prize

A gut punch of a novel that asks us to consider: what do we pass on to our children? What do we owe those we love? And without roots, can you ever truly be free? 

Nahid has six months left to live. Or so the doctors say. At fifty, she is no stranger to loss. But now, as she stands on the precipice of her own death—just as she has learned that her daughter Aram is pregnant with her first child—Nahid is filled with both new fury and long dormant rage. Her life back home in Iran, and living as a refugee in Sweden, has been about survival at any cost. How to actually live, she doesn't know; she has never had the ability or opportunity to learn.

Here is an extraordinary story of exile, dislocation, and the emotional minefields between mothers and daughters; a story of love, guilt and dreams for a better future, vibrating with both sorrow and an unquenchable joie de vivre. With its startling honesty, dark wit, and irresistible momentum, What We Owe introduces a fierce and necessary new voice in international fiction.
About the Author
Golnaz Hashemzadeh Bonde was born in Iran in 1983 and fled with her parents to Sweden as a young child. She graduated from the Stockholm School of Economics and was named one of the 50 Goldman Sachs Global Leaders. She is the founder and director of Inkludera Invest, a non-profit organization dedicated to fighting marginalization in society by backing social entrepreneurs who have developed pragmatic solutions to social challenges. What We Owe is her first novel to be published in the US. She lives in Stockholm with her husband and daughter.
Elizabeth Clark Wessel is the translator and co-translator of numerous novels, memoirs, and other projects from the Swedish, including The Ice Beneath Her by Camilla Grebe, Let's Hope for the Best by Carolina Setterwall, Astroecology by Johannes Heldén, What We Owe by Golnaz Hashemzadeh Bonde, and the recently published journals of Hilma af Klint in Hilma af Klint: Notes and Methods, edited by Christine Burgin. She's also a poet and a founding editor at the poetry press Argos Books. Originally from rural Nebraska, she spent many years living in New York and Connecticut, and these days she calls Stockholm, Sweden home.
 
Praise For What We Owe…
Winner of the Dayton Literary Peace Prize

"The arrival, in translation, of a Swedish-Iranian novelist is a welcome chance to cross the bridge into another version of Scandinavia…'What We Owe', the second novel by Golnaz Hashemzadeh Bonde, an economist and social entrepreneur, is above all a family story. It knots the experiences of three generations of women into a taut and moving account of grief, a legacy handed down from mother to daughter…[and] refuses sentimental consolations…Terse, urgent prose—ably channelled by Elizabeth Clark Wessel, the translator—gives pace and heft to a novel of contagious trauma."—The Economist

"Life is juxtaposed with death, resistance and revolution and rebirth are woven throughout the pages, and what it means to be a wife, daughter, sister, mother, and woman are unflinchingly examined in this book. This book is a powerhouse." —Book Riot

"A haunting and emotional tale of survival, of what it means to be a refugee." —The Literary Review

"Spare and devastating...Translated—gorgeously and simply—by Wessel, Nahid's sentences are short and thrillingly brutal, and the result is exhilarating. Hashemzadeh Bonde, unafraid of ugliness and seemingly unconcerned with likability, has produced a startling meditation on death, national identity, and motherhood. Always arresting, never sentimental; gut-wrenching, though not without hope."
—Kirkus Reviews, STARRED
 
"A book I devoured in one sitting. The voice is fierce and direct and unapologetic . . . One of the best books I've read about the psychological horror of being from post-revolutionary Iran. In this age of continuing dehumanization of Iranians in America, this book is a critical read for us all . . . Gorgeous and vital, this story will haunt its readers."
—Azareen Van der Vliet Oloomi, for The Rumpus

"I read this ferocious novel in one sitting, enthralled by the rage of its narrator. Nahid confronts her own suffering with dark humor and noisy honesty, while taking aim at a patriarchal tradition that expects her to be silent."
—Leni Zumas, author of Red Clocks

"What We Owe is not only a riveting chronicle of immigration and loss but an unsparing interrogation of history itself, both personal and political. For the dying 50-year-old Nahid, her past in revolutionary Iran and her exiled present in Sweden collide into an ongoing, at times unendurable battle for now. By turns brutal, regretful, heartbreaking, and cautiously hopeful, this novel is an instant classic."
—Cristina García, author of Here in Berlin

"The unusually distilled voice of this potent novel is urgently, unforgettably true. It hit me right in the gut and left me bereft in the most beautiful way."
—Elisa Albert, author of After Birth
"Here is an extraordinary story of exile, dislocation, and the emotional minefields between mothers and daughters; a story of love, guilt and dreams for a better future, vibrating with both sorrow and an unquenchable 
joie de vivre
. With its startling honesty, dark wit, and irresistible momentum, 
What We Owe
 introduces a fierce and necessary new voice in international fiction."
—Dayton Literary Peace Prize Finalist CitationSwedish Praise for WHAT WE OWE:
"Crystal clear storytelling…Golnaz Hashemzadeh Bonde's style may be economical with short staccato sentences—often no longer than five or six words—but it contains both an eye for details and, in a remarkable way, beautiful song. This song, in both Nahid's story and in Hashemzadeh Bonde's way of writing it, is central.
What We Owe
is something very unusual: both emotional and precise, and Nahid's painful honestly, grief, joy, love, and fury, so evocative. The kind of novel that becomes a primer for life, one that is important to read before it is too late."
—Dagens Nyheter (Sweden)
"While navigating themes like illness and impending death that are rife with the potential of misstep, [Hashemzadeh Bonde] succeeds in creating a completely unsentimental story and is faithful to Nahid's voice to such a degree that I forgot that there was a writer behind it. I got to know a person so deeply, in a way I have not before, and catch myself wanting to agree with Nahid. To say the world ought to have treated her better, that life ought to have been better. But I have gotten to know her so well that I also know that she would push my embrace away with a sneer. No matter, Nahid is indispensable to Swedish literature's cast of characters, and I am deeply grateful that Golnaz Hashemzadeh Bonde has given her to us."
—Expressen 
"What's most impressive about this novel is Hashemzadeh Bonde's ability to portray tensions on different levels, and how they are all connected to each other. It is the complicated relationship between Nahid and her daughter—of the same blood but with so very different social experiences. It is the individual against structure—illustrated by Nahid's memory of her sister Maryam in Iran: 'beautiful, proud, strong. Everything a woman can't be, not even in Sweden, without getting shit for it.' And it's a struggle and achievement against coincidence—or structure, again. 
What We Owe
 is a page-turner that raises existentially universal issues while at the same time contributing additional vital pieces to the jigsaw puzzle that is the world and Sweden of today."
—Kulturnytt, Sveriges Radio 
"The style is effortless and matter-of-fact, and the author has a way of giving each sentence heat and weight…Literature has a habit of simplifying lives to 'stories'. In many such stories I've read, dying people are full of gratitude over the years and experiences they've been given here on earth. Nahid is not grateful. She is full of bitterness and rage. Justified rage, I think, against Khomeini and the Islamic dictatorship in Iran, against her father's illness and her own, against the husband she loved but who hit and kicked her when she wasn't being submissive enough. Rage and bitterness are often considered harmful and consuming, especially to women. Nahid draws her strength from her rage. She burns. Until the very last breath."
—Aftonbladet 
"Hashemzadeh Bonde succeeds extremely well in capturing the nuances in the emotional mixture of anger, clarity, darkness, and grief that is implacability, and a large part of the telling lies in the style. Short, explosive sentences reveal a character who neither has time nor can afford anything but telling the truth."
—Göteborgs-Posten 
"A breathtaking journey through Iran of the past and Sweden of today. With characters that aren't always easy to like but who are impossible to let go of, [Hashemzadeh Bonde] asks relevant, difficult questions and leaves the reader rattled. Worthy of big applause."
—Fönstret