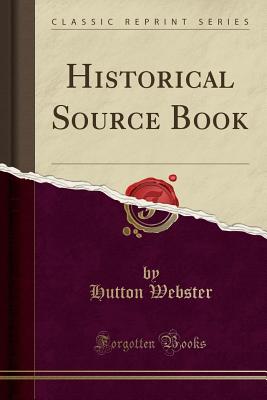 Historical Source Book (Classic Reprint)
Paperback

* Individual store prices may vary.
Description
Excerpt from Historical Source Book
My Readings in Ancient History and Readings in Medieval and Modern History, published some years ago, were intended to provide high-school students of history with a considerable body of narrative and biographical material, for use in connection with their textbook. I now put forth this third volume of thirty-three documents. All but the first two relate to the seventeenth, eighteenth, nineteenth, and twentieth centuries.
Two principal motives have dictated the selection of these particular documents, out of the hundreds which might have been chosen. First, I wished to exhibit the historical development in England and America, and later on the Continent, of orderly, constitutional, and democratic government. From this point of view, an intimate acquaintance with Magna Carta, the Petition of Right, the Bill of Rights, the Declaration of Independence, the Northwest Ordinance, the Constitution of the United States, and the Declaration of the Rights of Man is of supreme value to every intelligent American citizen. Second, I wished to trace the growth of international law and of international relations, generally, as registered in such state papers as the Monroe Doctrine, the Durham Report, the Declaration of Paris, the Peace Circular of Nicholas II, and the Covenant of the League of Nations. Few at this time will deny their epoch-making significance for mankind.
It is not expected that every student will read every document. A proper choice must be made by the teacher, in accordance with the scope and character of her instruction and the maturity of her class. Moreover, some of the longer documents (especially Nos. 1, 5, 6, 7, 9, 13, and 14) will doubtless never be read in extenso. To facilitate omissions and to aid in the comprehension of the subject matter, I have retained the numbered articles and sections appearing in many of the documents and elsewhere have myself supplied them.
The documents are reprinted in their original form without verbal change. No omissions have been made, except as indicated.
About the Publisher
Forgotten Books publishes hundreds of thousands of rare and classic books. Find more at www.forgottenbooks.com
This book is a reproduction of an important historical work. Forgotten Books uses state-of-the-art technology to digitally reconstruct the work, preserving the original format whilst repairing imperfections present in the aged copy. In rare cases, an imperfection in the original, such as a blemish or missing page, may be replicated in our edition. We do, however, repair the vast majority of imperfections successfully; any imperfections that remain are intentionally left to preserve the state of such historical works.
Forgotten Books, 9781331097150, 222pp.
Publication Date: May 8, 2018
or
Not Currently Available for Direct Purchase