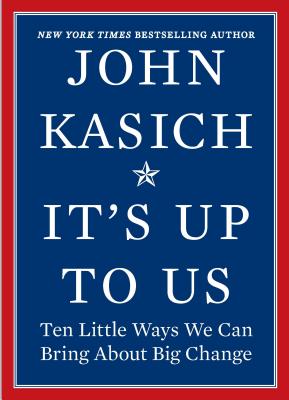 It's Up to Us
Ten Little Ways We Can Bring about Big Change
Hardcover

* Individual store prices may vary.
Description
A Little Book About Big Change
"Uplifting."--Kirkus Reviews
We all want the same things. We want to live a life of purpose and meaning. We want to leave a legacy for our children and grandchildren. We want to leave the world a better place. And yet we spend so much time wringing our hands over what's wrong and not nearly enough time fixing those things within our control. John Kasich has walked the corridors of power both in the politics, as a former leader of Congress, governor of Ohio, presidential candidate, and in the private sector, as an in-demand public speaker, best-selling author and a strategic advisor to businesses and large non-profits. Yet he's seen that the most powerful movements have started from the bottom up. Rather than waiting on Washington, the solutions happen once we become leaders in our own lives and communities. The strength and resilience of our nation lies in each of us. That's what this book is about. In
It's Up to Us
, Kasich shares the ten little ways we each can bring about big change. Taken together, they chart a path for each to follow as we look to live a life bigger than ourselves. Taken one-by-one, they can help to lift us from a place of outrage or complacency or helplessness and move us closer to our shared American dream.
Hanover Square Press, 9781335012203, 240pp.
Publication Date: October 15, 2019
About the Author
John Kasich served as governor of Ohio from 2011-2019. He sought the 2016 Republican nomination for President and became the last candidate standing in opposition to presumptive nominee Donald Trump. From 1983 to 2001, he served as a member of the United States House of Representatives, where he served as a member of Armed Services Committee and was chair of the House Budget Committee – leading America to its first balanced budget in decades. He has also had a successful career as an investment banker, as a commentator and host of "Heartland with John Kasich" on the Fox News Channel, as author of four New York Times bestselling books, and now as a senior political commentator on CNN. Born in McKees Rocks, Pennsylvania, he and his family live in Westerville, Ohio.