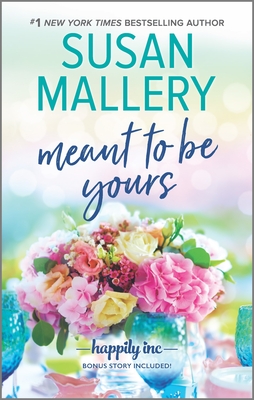 Meant to Be Yours (Happily Inc #5)
Mass Market Paperbound

* Individual store prices may vary.
Other Editions of This Title:
Digital Audiobook (10/21/2019)
Hardcover (10/22/2019)
Description
In Happily Inc, love means never having to say "I do"...

Wedding coordinator Renee Grothen isn't meant for marriage. Those who can, do. Those who can't, plan. But she never could have planned on gorgeous, talented thriller writer Jasper Dembenski proposing--a fling. And the attraction between them is too strong for Renee to resist. Now she can have her no-wedding cake...and eat it, too.

After years in the military, Jasper is convinced he's too damaged for relationships. So a flirtation--and more--with fiery, determined Renee is way too good to pass up...until his flame becomes his muse.

Renee is an expert at averting every crisis. But, as feelings become more serious, is she finally ready to leap into the one thing that can never be controlled: love?


Don't miss The Boardwalk Bookshop by Susan Mallery A heartfelt tale of friendship between three women brought together by chance who open a bookshop together on the boardwalk of the California beaches.


Read more in the reader-favorite Happily Inc series:
Book 1: You Say It First
Book 2: Second Chance Girl
Book 3: Why Not Tonight
Book 4: Not Quite Over You
Book 5: Meant to Be Yours
Book 6: Happily This Christmas
Hqn, 9781335041494, 464pp.
Publication Date: October 22, 2019