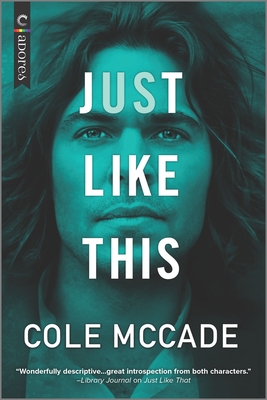 Just Like This
Paperback

* Individual store prices may vary.
Description
"An un-put-downable gay romance."--Publishers Weekly
Rian Falwell has a problem.
And his name is Damon Louis.
Rian's life as the art teacher to a gaggle of displaced boys at Albin Academy should be smooth sailing--until the stubborn, grouchy football coach comes into his world like a lightning strike and ignites a heated conflict that would leave them sworn enemies if not for a common goal. A student in peril. A troubling secret. And two men who are polar opposites but must work together to protect their charges. They shouldn't want each other. They shouldn't even
like
each other. Yet as they fight to save a young man from the edge, they discover more than they thought possible about each other--and about themselves. In the space between hatred, they find love. And the lives they have always wanted... Just like this. "The romantic longing, themes of bravery and confidence, and moments of cozy domesticity shine." --
Publishers Weekly
, on
Just Like That
The Hideaway Inn
by Philip William Stover
The Girl Next Door
by Chelsea M. Cameron
Just Like That
by Cole McCade
Hairpin Curves
by Elia Winters
Better Than People
by Roan Parrish
The Love Study
by Kris Ripper
The Secret Ingredient
by KD Fisher
Teddy Spenser Isn't Looking for Love
by Kim Fielding
The Beautiful Things Shoppe
by Philip William Stover
Learn to Knit in Nine Months or Less
by Hettie Bell.
Carina Adores, 9781335200907, 400pp.
Publication Date: November 24, 2020