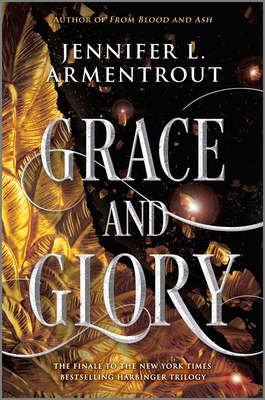 Grace and Glory (Harbinger #3)
Hardcover

* Individual store prices may vary.
Description
THE FINALE TO THE NEW YORK TIMES BESTSELLING HARBINGER SERIES

Trinity Marrow has lost the battle and her beloved Protector. Even with both demons and Wardens on her side, Trin may not win the war against the Harbinger.

Bringing Lucifer back to the world to fight the Harbinger is probably a really, really bad idea, but they're out of options--and the world's ultimate fallen angel is the only being powerful enough to impact the outcome.

As Trin and Zayne form a new and more dangerous bond and Lucifer unleashes Hell on earth, the apocalypse looms and the world teeters on the end of forever. Win or lose, one thing is certain--nothing will ever be the same.

The Harbinger Series:
Storm and Fury
Rage and Ruin
Grace and Glory

Can't get enough of Zayne? Read about his past in The Dark Elements series:

The Dark Elements Series:
Bitter Sweet Love (ebook-only prequel)
White Hot Kiss
Stone Cold Touch
Every Last Breath
Inkyard Press, 9781335212788, 512pp.
Publication Date: June 1, 2021