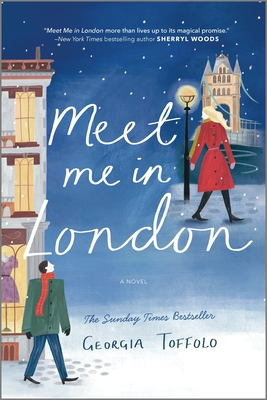 Meet Me in London
Paperback

* Individual store prices may vary.
Description
"Armchair travelers will adore this tour of Christmastime London... a] charming rom-com from British reality TV star Georgia Toffolo." --Publishers Weekly

Fans of Josie Silver's One Day in December and Christina Lauren's In a Holidaze will adore watching Victoria and Oliver's pretend engagement dissolve as their very real chemistry threatens to upend all their carefully laid-out secrets. Set against the most charming London backdrop, Meet Me in London is an irrisistable seasonal treat

What do you do when your fake engagement starts to feel too real...

Aspiring clothes designer Victoria Scott spends her days working in a bar in Chelsea and her evenings designing vintage clothes, dreaming of one day opening her own boutique. But these aspirations are under threat from the new department store opening at the end of her road. She needs a Christmas miracle, but one is not forthcoming.

Oliver Russell's Christmas is not looking very festive right now. His family's new London department store opening is behind schedule, and on top of that his interfering, if well-meaning, mother is pressing him to introduce his girlfriend to her over the holidays--a girlfriend who does not exist. He needs a diversion...something to keep his mother from meddling while he focuses on the business.

When Oliver meets Victoria, he offers a proposition: pretend to be his girlfriend at the opening of his store and he will provide an opportunity for Victoria to showcase her designs. But what starts as a business arrangement soon becomes something more tempting as the fake relationship starts to feel very real. But when secrets in Victoria's past are exposed, will Oliver walk away, or will they both follow their hearts and find what neither knew they were looking for...?

"An ideal Christmas escape "--Laura Jane Williams, Bestselling author of Our Stop

Hqn, 9781335459978, 336pp.
Publication Date: September 28, 2021