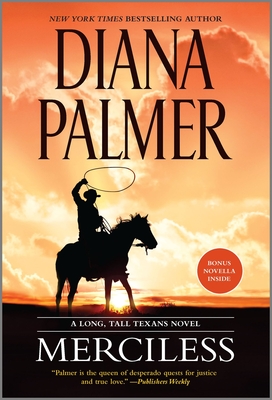 Merciless (Long)
Mass Market Paperbound

* Individual store prices may vary.
Description
An unlikely attraction blossoms in this classic tale from Diana Palmer's bestselling Long, Tall Texans series FBI agent Jon Blackhawk has no interest in settling down with a wife and family, despite being one of Jacobsville's most eligible bachelors. If he had his way, he'd be happily single forever. Luckily, Jon has a gatekeeper: his efficient and reliable assistant, Joceline Perry. Without her help, he'd be at the mercy of the women of Jacobsville. But the more he comes to rely on her, the more he notices how invaluable--and attractive--she really is. While Joceline can't deny that her boss is the epitome of tall, dark and handsome, as a single mother with responsibilities, she doesn't have the luxury of being anything but professional. But when Jon is accosted by a criminal seeking revenge, she comes to his aid--fueling the spark that is growing between them. As the danger to Jon's safety grows, Joceline stands by his side. But when the smoke clears, will the man who avoided love realize that all he ever needed was right there all along? BONUS NOVELLA INSIDE "You just can't do better than a Diana Palmer story to make your heart lighter and smile brighter." --Fresh Fiction on Wyoming Rugged Long, Tall Texans Book 1: Long, Tall Texans: Calhoun
Book 2: Long, Tall Texans: Quinn
Book 3: Long, Tall Texans: Ethan
Book 4: Evan
Book 5: Donavan
Book 6: Emmett
Book 7: Long, Tall Texans: Regan
Book 8: Long, Tall Texans: Todd
Book 9: Long, Tall Texans: Hank
Book 10: Coltrain''s Proposal
Book 11: Long, Tall Texans: Tom
Book 12: Long, Tall Texans: Drew
Book 13: Jobe
Book 14: CHRISTMAS COWBOY
Book 15: The Princess Bride
Book 16: Beloved
Book 17: Long, Tall Texans: Judd
Book 18: Callaghan''s Bride
Book 19: Guy
Book 20: Long, Tall Texans: Luke
Book 21: Long, Tall Texans: Christopher
Book 22: MATT CALDWELL: TEXAS TYCOON
Book 23: LORD OF THE DESERT
Book 24: The Texas Ranger
Book 25: Long, Tall Texans: Garon
Book 26: A Man of Means
Book 27: DESPERADO
Book 28: Lionhearted
Book 29: Man in Control
Book 30: The Founding Father
Book 31: Cattleman''s Pride
Book 32: Long, Tall Texans: Cash
Book 33: Carrera''s Bride
Book 34: Boss Man
Book 35: Winter Roses
Book 36: Iron Cowboy
Book 37: Long, Tall Texans: Bentley
Book 38: Defender
Book 39: Unbridled
Book 40: Unleashed
Book 41: Texas Proud
Book 42: Notorious
Hqn, 9781335475220, 304pp.
Publication Date: December 28, 2021