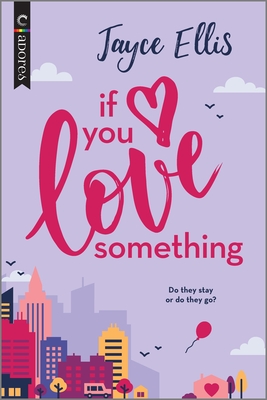 If You Love Something
Paperback

* Individual store prices may vary.
Description
"A lovingly drawn depiction of Black family dynamics." --Publishers Weekly on Learned Reactions

A marriage lost is found again in this cheeky new romantic comedy from acclaimed author Jayce Ellis.

As executive chef at one of the hottest restaurants in DC, DeShawn Franklin has almost everything he's ever wanted. He's well-known, his restaurant is Michelin starred and he can write his own ticket anywhere he wants. Until his grandmother calls him home and drops two bombshells:

1) She has cancer and she's not seeking treatment.
2) She's willing half her estate to DeShawn's ex-husband, Malik.

Make that three bombshells.

3) That whole divorce thing? It didn't quite go through. DeShawn and Malik are still married.

And when DeShawn's shady uncle contests Grandma's will, there's only one path back to justice: play it like he and Malik have reconciled. They need to act like a married couple just long enough to dispense with the lawsuit.

Once DeShawn is back in Malik's orbit, it's not hard to remember why they parted. All the reasons he walked away remain--but so do all the reasons he fell in love in the first place.

Carina Adores is home to romantic love stories where LGBTQ+ characters find their happily-ever-afters.

Also from Jayce Ellis:

Higher Education
Book 1: Learned Behaviors
Book 2: Learned Reactions

High Rise:
Book 1: Jeremiah
Book 2: Andr
Carina Adores, 9781335517159, 320pp.
Publication Date: December 28, 2021