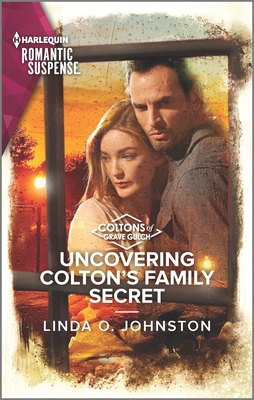 Uncovering Colton's Family Secret
Mass Market Paperbound

* Individual store prices may vary.
Description
Coming face-to-face with her past... Jeopardizes both their futures When Madison Colton comes face-to-face with her presumed-dead father, her entire world is turned upside down. The unexpected discovery endangers Madison and brings Marshal Oren Margulies to her rescue. Madison can't believe she's being targeted, but Oren's presence fills her with feelings she never knew she had. But blossoming romance might be cut short by a vengeful killer... From Harlequin Romantic Suspense: Danger. Passion. Drama. Feel the excitement in these uplifting romances, part of The Coltons of Grave Gulch series: Book 1: Colton's Dangerous Liaison by Regan Black
Book 2: Colton's Killer Pursuit by Tara Taylor Quinn
Book 3: Colton Nursery Hideout by Dana Nussio
Book 4: Colton Bullseye by Geri Krotow
Book 5: Guarding Colton's Child by Lara Lacombe
Book 6: Colton's Covert Witness by Addison Fox
Book 7: Rescued by the Colton Cowboy by Deborah Fletcher Mello
Book 8: Colton K-9 Target by Justine Davis
Book 9: A Colton Internal Affair by Jennifer D. Bokal
Book 10: Uncovering Colton's Family Secret by Linda O. Johnston
Book 11: Agent Colton's Takedown by Beverly Long
Book 12: Proving Colton's Innocence by Lara Lacombe
Harlequin Romantic Suspense, 9781335759467, 288pp.
Publication Date: October 26, 2021