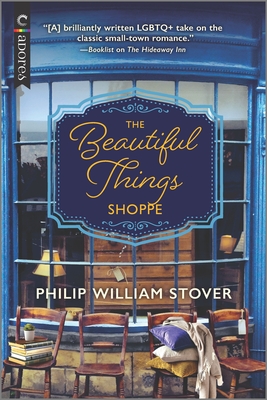 The Beautiful Things Shoppe
Paperback

* Individual store prices may vary.
Description
Their collections may clash but their hearts are a perfect match.
Moving to eclectic New Hope, Pennsylvania, and running The Beautiful Things Shoppe is a dream come true for elegant and reserved fine arts dealer Prescott J. Henderson. He never agreed to share the space with Danny Roman, an easygoing extrovert who collects retro toys and colorful knickknacks. And yet here they are, trapped together in the quaint shop as they scramble to open in time for New Hope's charming Winter Festival. Danny has spent years leading with his heart instead of his head. The Beautiful Things Shoppe is his chance to ground himself and build something permanent and joyful. The last thing he needs is an uptight snob who doesn't appreciate his whimsy occupying half his shop. It's only when two of New Hope's historic landmarks--each as different as Danny and Prescott--are threatened that a tentative alliance forms. And with it, the first blush of romance. Suddenly, running The Beautiful Things Shoppe together doesn't seem so bad...until Danny's secret threatens to ruin it all.
Carina Adores is home to highly romantic contemporary love stories where LGBTQ+ characters find their happily-ever-afters.
A new Carina Adores title is available each month:
The Hideaway Inn
by Philip William Stover
The Girl Next Door
by Chelsea M. Cameron
Just Like That
by Cole McCade
Hairpin Curves
by Elia Winters
The Love Study
by Kris Ripper
The Secret Ingredient
by KD Fisher
Just Like This
by Cole McCade
Teddy Spenser Isn't Looking for Love
by Kim Fielding
Our Level Best
by Roan Parrish
J-Curve
by Hudson Lin
The Hate Project
by Kris Ripper.
Carina Adores, 9781335940889, 304pp.
Publication Date: January 26, 2021