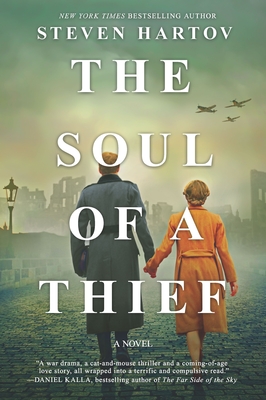 The Soul of a Thief
A Novel of World War II
Paperback

* Individual store prices may vary.
Other Editions of This Title:
Digital Audiobook (4/16/2018)
Compact Disc (4/17/2018)
Hardcover (4/17/2018)
Description
"A literary tour de force on par with Mark Sullivan's Beneath a Scarlet Sky." --Samuel Marquis
In the spring of 1944, I realized that I was not going to survive the war...
Shtefan Brandt, adjutant to a colonel of the Waffen SS, has made it through the war so far in spite of his commander's habit of bringing his staff into combat, and a pair of secrets that are far more dangerous than the battlefield. Shtefan is a Mischling and one of the thousands of German citizens of Jewish descent who have avoided the death camps by concealing themselves in the ranks of the German army. And he is in love with Gabrielle Belmont, the colonel's French mistress. Either of those facts could soon mean his end, were Colonel Erich Himmel to notice. Colonel Himmel has other concerns, however. He can see the war's end on the horizon and recognizes that he is not on the winning side, no matter what the reports from Hitler's generals may say. So he has taken matters into his own hands, hatching a plot to escape Europe. To fund his new life, he plans to steal a fortune from the encroaching Allies. A fortune that Shtefan, in turn, plans to steal from him... Atmospheric and intense,
The Soul of a Thief
captures the turbulent emotional rush of those caught behind the lines of occupied France, where one false step could spell death, and every day brings a new struggle to survive. Hanover Square Press is home to compelling, original fiction and nonfiction titles that keep you up all night reading and that you want to talk about the next morning. Check out a few of Hanover's riveting historical fiction titles you also might enjoy:
How We Disappeared
by Jing-Jing Lee
The Trial and Execution of George Washington
by Charles Rosenberg
Tomorrow
by Damian Dibben.
Hanover Square Press, 9781335994684, 304pp.
Publication Date: April 9, 2019