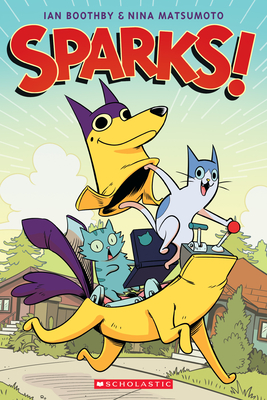 Sparks! (Sparks #1)
Paperback

* Individual store prices may vary.
Other Editions of This Title:
Hardcover (2/27/2018)
Prebound (2/27/2018)
Description
Sparks is a hero and man's best friend, but nobody suspects he's two cats!
This Super Dog is the Cat's Meow!

August is a brilliant inventor who is afraid of the outside. Charlie is a crack pilot who isn't afraid of anything. Together these pals save lives every day. They also happen to be cats who pilot a powerful, mechanical dog suit!

Always eager to leap into danger, this feline duo have their work cut out for them as they try to thwart Princess, an evil alien bent on enslaving mankind. Don't let the fact that Princess looks like a cute, diaper-wearing baby fool you. She's clever, determined, and totally ruthless. So when Princess and the browbeaten fools she calls servants enact a brilliant and dastardly plan to conquer Earth, August and Charlie pull out all the stops to save the day.
Praise For Sparks! (Sparks #1)…
*"Boothby's background as a comedy writer shows in the tight timing, clever banter, and over-the-top dialogue, while Matsumoto's archly funny cartoons -- buoyant, colorful artwork filled with speedy action, riotous sight gags, and animated character designs -- perfectly complement the script. Ideal for elementary-school readers, this is a natural choice for anyone who loved Dav Pilkey's Dog Man series or Drew Brockington's Catstronauts books." -- Booklist, starred review

"Tightly spaced panels and frenetic motion lines keep the tension high and the pace quick, and the plethora of onomatopoeia give a dramatic and amusing comic-book feel. Back off, Lassie and Rin Tin Tin; Sparks is on the scene and ready for action." -- Bulletin of the Center for Children's Books

"It's an off-the-wall and very funny adventure with an entertaining odd-couple friendship at its core." -- Publishers Weekly

"Cat and dog lovers alike will laugh their way to the end of this offering... Recommended for all children's comics collections." -- School Library Journal
Graphix, 9781338029468, 192pp.
Publication Date: February 27, 2018
About the Author
Ian Boothby has been writing comedy for TV and radio since he was 13 and making his own comics since he was 16. Ian has written comic books for The Simpsons, Futurama, Mars Attacks, Scooby-Doo, The Powerpuff Girls, and The Flash. Ian has also won an Eisner Award for Best Short Story along with the artist Nina Matsumoto.

Nina Matsumoto is a Japanese Canadian who grew up drawing mostly animals, then mostly people, then back to animals again for this book. She pencils for Simpsons Comics and designs video game T-shirts for Fangamer. She created her own English manga series, Yokaiden, and drew The Last Airbender Prequel: Zuko's Story. In 2009, she won an Eisner Award with Ian Boothby, and they have been collaborating ever since. She lives with an aloof Shiba Inu that is most likely a cat in a dog suit.