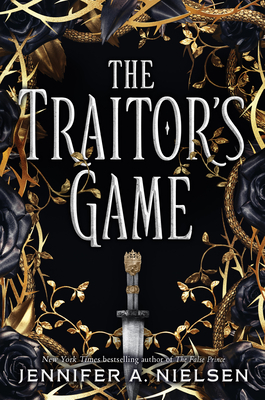 The Traitor's Game (the Traitor's Game, Book One) (Hardcover)
Scholastic Press, 9781338045376, 400pp.
Publication Date: February 27, 2018
Description
Jennifer A. Nielsen introduces us to an unforgettable new heroine in this New York Times bestselling tale of treachery and intrigue, love and deceit.Nothing is as it seems in the kingdom of Antora. Kestra Dallisor has spent three years in exile in the Lava Fields, but that won't stop her from being drawn back into her father's palace politics. He's the right hand man of the cruel king, Lord Endrick, which makes Kestra a valuable bargaining chip. A group of rebels knows this all too well -- and they snatch Kestra from her carriage as she reluctantly travels home.The kidnappers want her to retrieve the lost Olden Blade, the only object that can destroy the immortal king, but Kestra is not the obedient captive they expected. Simon, one of her kidnappers, will have his hands full as Kestra tries to foil their plot, by force, cunning, or any means necessary. As motives shift and secrets emerge, both will have to decide what -- and who -- it is they're fighting for.
About the Author
Jennifer A. Nielsen is the acclaimed author of the New York Times and USA Today bestselling Ascendance Trilogy: The False Prince, The Runaway King, and The Shadow Throne. She also wrote the New York Times bestselling Mark of the Thief trilogy: Mark of the Thief, Rise of the Wolf, and Wrath of the Storm; the stand-alone fantasy The Scourge; the historical thriller A Night Divided; the second book in the Horizon series, Deadzone; Book Six of the Infinity Ring series, Behind Enemy Lines; and The Traitor's Game, the first book in a series of the same name. Jennifer lives in northern Utah with her husband, their three children, and a perpetually muddy dog.
Advertisement