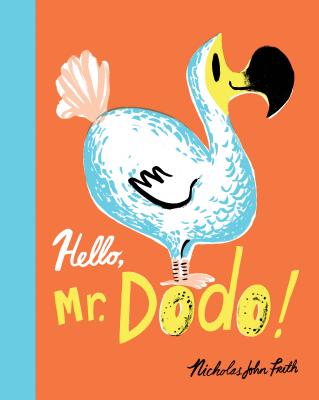 Hello, Mr. Dodo! (Hardcover)
Arthur A. Levine Books, 9781338089394, 32pp.
Publication Date: January 31, 2017
* Individual store prices may vary.
Description
Martha is absolutely cuckoo for birds! She's identified every single bird in the woods behind her house. But one day she sees a bird unlike any other... Can that really be a dodo? It turns out that dodos make very good friends (and are crazy about doughnuts!). But when Martha's secret gets out and the whole town wants to see her new friend, will Martha have to say good-bye to Mr. Dodo?
About the Author
Nicholas John Frith grew up in the Chiltern Hills in England and went to school just around the corner from the home of Roald Dahl. Having spent many years traveling the world, from Kuala Lumpur to Chile, Nicholas is now drawing from his experiences to create picture books that bring those places to life for young readers. Hector and Hummingbird is Nicholas John Frith's debut picture book. He currently lives and works in Dorset, England.
Praise For Hello, Mr. Dodo!…
Praise for Hector and Hummingbird:

*"Frith has created a visually stunning work, and young readers who look closely will find a forest teeming with wildlife hidden in plain sight. The tale is simple and universal, the setting is fresh, and it all works. Lovely." -- Kirkus Reviews, starred review

*"Frith, in a terrific debut, writes with a light touch and an astute ear, making what could have been a familiar odd couple story feel fresh and new. Most impressive of all is his artwork: rendered in a gorgeously florid palette of brown, pink, turquoise, and olive, it evokes both midcentury illustration and vintage barkcloth." -- Publishers Weekly, starred review

"Marvelous screen-print-style illustrations are shot through with green, turquoise, and bright pink, bringing energy and a playfulness to the Peruvian jungle Hector and Hummingbird call home. Readers will connect with Hector's frustration over being pestered, and won over by Hummingbird's enthusiastic take on friendship." -- Booklist