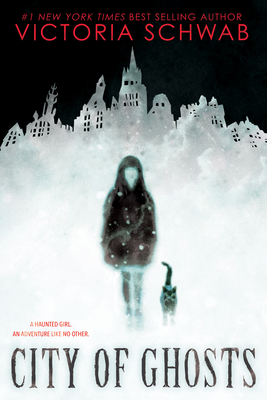 City of Ghosts
Hardcover

* Individual store prices may vary.
Other Editions of This Title:
Paperback (9/3/2019)
Description
From #1 NYT bestselling author Victoria Schwab comes a sweeping, spooky, evocative adventure, perfect for fans of "Stranger Things" and Miss Peregrine's Home for Peculiar Children.
A New York Times bestseller!

Ever since Cass almost drowned (okay, she did drown, but she doesn't like to think about it), she can pull back the Veil that separates the living from the dead . . . and enter the world of spirits. Her best friend is even a ghost.

So things are already pretty strange. But they're about to get much stranger.

When Cass's parents start hosting a TV show about the world's most haunted places, the family heads off to Edinburgh, Scotland. Here, graveyards, castles, and secret passageways teem with restless phantoms. And when Cass meets a girl who shares her "gift," she realizes how much she still has to learn about the Veil -- and herself.

And she'll have to learn fast. The city of ghosts is more dangerous than she ever imagined.

#1 NYT bestselling author Victoria Schwab delivers a thrillingly spooky and action-packed tale of hauntings, history, mystery, and the bond between friends (even if that friend is a ghost . . .).
Praise For City of Ghosts…
Praise for City of Ghosts:

"Spine tingling and page-turning, perfectly blending humor, heart, and adventure . . . I loved it!" -- Jennifer A. Nielsen, New York Times bestselling author of The False Prince
"This book has it all -- a ghost for a best friend, a city brimming with magic, and a brave girl discovering her strange power. A thrilling and chilling mystery that will have you counting the days until Cass's next adventure." -- Zoraida Cordova, author of the Brooklyn Brujas series

* "This atmospheric ghost story from Schwab (the Monsters of Verity duology) chills and charms while challenging readers to face their fears. Courageous, quick-witted Cassidy inspires, her relationship with Jacob is tender, and the thrilling conclusion is sure to gratify." -- Publishers Weekly, starred review

"Begs to be read in the dark of night." -- Kirkus Reviews

"Schwab paints an eerie portrait of haunted locales and her descriptions of the various ghosts and their terrible ends will send shivers down even the bravest readers' spines. . . This fast-paced, spooky ghost story filled with international adventure is sure to please horror enthusiasts and armchair travelers." School Library Journal

"Readers craving a spooky story that won't terrorize their dreams will do well with this. Genuine frights are offset by Cass' rapport with Jacob, which injects a steady stream of humor into the spirited, mysterious narrative. A polished, fastpaced read, sure to be popular. . . Schwab's YA fantasies are regularly best-sellers, and this has every reason to follow suit." -- Booklist

Praise for This Savage Song:

* "There are no wasted words here, and the end result is a darkly precise narrative that feels like a shiver down the spine... this taut creation about the nature of humanity lingers long after its disquieting finale." -- Booklist, starred review

"Schwab's latest seems poised to grab both her adult and teen readers; the world is fascinating... the characters complicated, and the political machinations and emotional depths both charged and compelling... Crackling with energy, just the ticket for an all-night read." -- Kirkus Reviews

"Schwab explores the natures of justice and humanity in an assuredly built world with a compelling settings and an intriguing music-based magic. And in August and his Sunai siblings, she introduces a type of monster both sympathetic and terrifying. A cliffhanger ending promises a sequel." -- The Horn Book

"Kate and August both undergo an impressive amount of character development, and fans will like them despite their flaws. Combined with the nonstop action and the author's immersive writing style, this first purchase is sure to be a hit with older teens and fans of urban fantasy." -- School Library Journal

"Schwab has built a strange, captivating alternate America filled with offbeat, fascinating characters... Readers looking for a dangerous and engrossing new world to fall into will find it with this fast-paced, frightening read." -- Publishers Weekly

"The pacing is fast, the narrative enthralling, but it is the depths of the novel -- its acuteness of moral imagination and perception -- that will stay with you afterward. My highest recommendation." -- San Diego Union-Tribune

"Gritty dialogue and realistic scenes of violence will have senior high school students who enjoy The Hunger Games and Divergent series awaiting the next book in this series." -- Voice of Youth Advocates

Praise for A Darker Shade of Magic:

* "Schwab (Vicious) creates an ingenious set of nesting alternate Londons in this imaginative, well-crafted fantasy. Confident prose and marvelous touches -- a chameleon coat, a scarlet river of magic, a piratical antiheroine -- bring exuberant life to an exhilarating adventure among the worlds." -- Publishers Weekly, starred review

"A Darker Shade of Magic has all the hallmarks of a classic work of fantasy... Schwab has given us a gem of a tale that is original in its premise and compelling in its execution. This is a book to treasure." -- Deborah Harkness, New York Times bestselling author of The All Souls Trilogy

"Compulsively readable... her characters make the book. Just as Kell has layers, Lila is a satisfyingly rich invention... With so many worlds on the map, there's plenty left to discover." -- NPR

"A Darker Shade of Magic is smart, funny and sexy... Schwab keeps the excitement coming with roller-coaster plot twists that establish her as, perhaps, the natural successor to Diana Wynne Jones's contemporary fantasy crown." -- The Independent

"Fantasy fans will love this fast-paced adventure, with its complex magic system, thoughtful hero and bold heroine." -- Kirkus Reviews

Praise for A Gathering of Shadows:

* "This is how fantasy should be done." -- Publishers Weekly, starred review

"Addictive and immersive... between [the characters], the vivid setting, and the climactic cliffhanger, Schwab already has us anticipating the rest of the series. [Grade:] A." -- Entertainment Weekly

"Full of magic, intrigue, adventure, deception, a bit of piracy... this will engage both adult and young adult fantasy readers alike." -- Booklist
Scholastic Press, 9781338111002, 304pp.
Publication Date: August 28, 2018
About the Author
Victoria Schwab is the #1 New York Times bestselling author of more than a dozen novels for readers of all ages, including City of Ghosts, the Shades of Magic series (which has been translated into over 15 languages), This Savage Song, and Our Dark Duet. Victoria can often be found haunting Paris streets and trudging up Scottish hillsides. Usually, she's tucked in the corner of a coffee shop, dreaming up stories. Visit her online at veschwab.com.