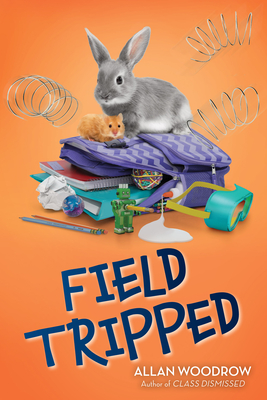 Field Tripped
Hardcover

* Individual store prices may vary.
Description
The fifth graders of Liberty Falls Elementary might be the worst fifth graders ever, but they still get to go on a field trip! They're going to visit the Edward Minks Mansion to learn about the eccentric inventor and founder of their town. Legend has it, there are some undiscovered inventions hidden in the house. The students are eager to find them, and they convince Principal Klein to let them out of writing their essay on Minks if they do.
But as Aaron, Eddie, Jessie, and Chloe explore the Minks Mansion, it seems like something strange is going on. Like the adults are missing and someone might be stealing the inventions. But in order to save the inventions and their teachers, the kids might just have to pull some serious pranks to stop the bad guys. Even if it means risking a lifetime of detention.
Can the fifth graders save their field trip and the mansion . . . or will this be the last field trip ever in school history?
Praise For Field Tripped…
Praise for Allan Woodrow
Class Dismissed
"Aimed equally at boys and girls, this engaging comedy offers some life lessons with a giggle." –Kirkus Reviews
"Readers won't regret picking up this title."–School Library Connection
The Pet War
"This fast-paced and funny novel presents a protagonist in the tradition of Tom Sawyer, a smug but winning preteen boy generally beloved by his peers though regarded with suspicion and perhaps a hint of distaste by adults." –Bulletin of the Center for Children's Books
"Otto is a humorous protagonist whose narrative will keep readers amused. Pet lovers will enjoy this entertaining story." –School Library Journal
"Many readers will identify with Otto's yearning for a pet and his frustrations with his all-too-perfect sister." –Publishers Weekly

Scholastic Press, 9781338116915, 272pp.
Publication Date: August 28, 2018
About the Author
Allan Woodrow is the author of Unschooled, Class Dismissed, and The Pet War, as well as other books for young readers, written under secret names. His writing also appears in the Scholastic anthology Lucky Dog: Twelve Tales of Rescued Dogs.
Allan currently lives near Chicago with his family. For more about Allan and his books, visit him online at www.allanwoodrow.com.