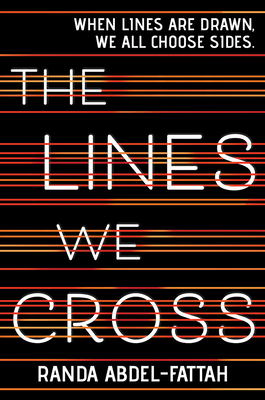 The Lines We Cross
Hardcover

* Individual store prices may vary.
Other Editions of This Title:
Paperback (8/28/2018)
Compact Disc (5/9/2017)
MP3 CD (5/9/2017)
Compact Disc (5/9/2017)
Description
Michael likes to hang out with his friends and play with the latest graphic design software. His parents drag him to rallies held by their anti-immigrant group, which rails against the tide of refugees flooding the country. And it all makes sense to Michael.Until Mina, a beautiful girl from the other side of the protest lines, shows up at his school, and turns out to be funny, smart -- and a Muslim refugee from Afghanistan. Suddenly, his parents' politics seem much more complicated.Mina has had a long and dangerous journey fleeing her besieged home in Afghanistan, and now faces a frigid reception at her new prep school, where she is on scholarship. As tensions rise, lines are drawn. Michael has to decide where he stands. Mina has to protect herself and her family. Both have to choose what they want their world to look like.
Praise For The Lines We Cross…
Praise for The Lines We Cross:
* "[T]his book could not be more necessary. Deserving of wide readership and discussion." -- Booklist, starred review
* "A meditation on a timely subject that never forgets to put its characters and their stories first." -- Kirkus Reviews, starred review
"Abdel-Fattah (Where the Streets Had a Name) delivers an engaging romance within a compelling exploration of the sharply opposing beliefs that tear people apart, and how those beliefs can be transformed through human relationships." -- Publishers Weekly
"Abdel-Fattah . . . is a master at conveying themes of tolerance, working in humor, and weaving multiple emotionally complex points of view. A timely and compassionate portrait of the devastating losses of refugees, political conflicts within a family and a nation, and the astounding capacity of young people to identify hate and yet act with empathy and love. A must-purchase for all collections." -- School Library Journal
"A Romeo and Juliet story for our times . . . Abdel-Fattah offers young readers immeasurable perspective into a present-day crisis." -- BookPage
"Timely, relevant and quite thought-provoking." -- RT Book Reviews
"An unflinching look at refugees, immigration, religion and Islamophobia . . . This timely book explores the emotionally and politically charged atmosphere behind immigration . . . putting personal stories to issues many only read about in the news." -- Bustle
Praise for Where the Streets Had a Name:
*"This novel is an important addition to a very small body of existing books that tell the Palestinian story for young people, and an intensely realistic setting brings that story to life. It is full of humor, adventure, and family love, but doesn't try to hide the heartbreaking and often bitter reality of life under Occupation. Abdel-Fattah manages to walk the line of truth-telling and sensitivity." -- School Library Journal, starred review
"Hayaat's immediate, wry, and irreverent narrative intensifies the story of anguished struggle and Palestinian politics . . . The suspense builds . . . to heartbreaking revelations." -- Booklist
"A refreshing and hopeful teen perspective on the Israeli-Palestinian dilemma." -- Kirkus Reviews
"Abdel-Fattah (Does My Head Look Big in This?) crafts a classic quest . . . The heroine's courage, warmth, and humor despite mounting challenges will win over readers." -- Publishers Weekly
Praise for Ten Things I Hate About Me:
"Written with insight, humor and sensitivity, Abdel-Fattah introduces a winning Muslim-Australian heroine who discovers that 'honesty is liberating.'" -- Kirkus Reviews
"The teen's present-tense narrative is as hilarious as the narrator's in Abdel-Fattah's first book and is just as honest about the shocking prejudice against Muslims. Teens will love the free-flowing, funny dialogue, even as they recognize their own ways of covering up who they are." -- Booklist
"The author brings a welcome sense of humor to Jamilah's insights about her culture, and she is equally adept at more delicate scenes. . . . For all the defining details, Jamilah is a character teens will readily relate to." -- Publishers Weekly
"Beautifully written with well-developed characters, this novel raises very relevant questions about racism and identity that teens of any culture or religion will relate to." -- Romantic Times
"The book will . . . appeal to teens who like stories about outsiders finding their place in the world." -- School Library Journal
Praise for Does My Head Look Big In This?:
*"This breakthrough debut novel . . . [is a] funny, touching contemporary narrative [that] will grab teens everywhere." -- Booklist, starred review
*"Amal... emerges a bright, articulate heroine true to herself and her faith. Abdel-Fattah's fine first novel offers a world of insight." -- Kirkus Reviews, starred review
"Refreshing . . . a valuable book." -- New York Times Book Review
"[A] witty, sensitive debut." -- People Magazine
"With an engaging narrator at the helm, Abdel-Fattah's debut novel should open the eyes of many a reader . . . Using a winning mix of humor and sensitivity, Abdel-Fattah ably demonstrates that her heroine is, at heart, a teen like any other. This debut should speak to anyone who has felt like an outsider for any reason." -- Publishers Weekly

Scholastic Press, 9781338118667, 400pp.
Publication Date: May 9, 2017
About the Author
Randa Abdel-Fattah is an award-winning author, former attorney, and an expert on Islamaphobia in Australia. She is the author of the critically acclaimed novels Does My Head Look Big In This? and Ten Things I Hate About Me, as well as the middle-grade novel Where the Streets Had a Name. Ms. Abdel-Fattah lives in Sydney, Australia, with her husband and their children.