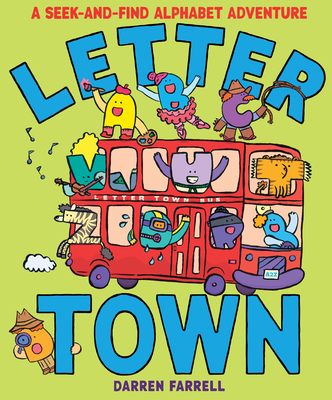 Letter Town (Hardcover)
A Seek-and-Find Alphabet Adventure
Orchard Books, 9781338121070, 48pp.
Publication Date: June 26, 2018
* Individual store prices may vary.
Description
Excuse me friend, have you yet
seen the home of the alphabet?
Come with me, I'll show you around
this lovely place called Letter Town.

Follow Bus Driver B through the jam-packed pages full of letters at work and play in a town unlike any other. From Avenue A to Zoo Z, there's always something to spot and see in Letter Town. Each bus stop reveals a new part of the town, while the bouncy rhyming narrative uncovers sneaky Detective D's mission to capture Robber R, who is causing mischief throughout the neighborhoods. And don't forget to be on the lookout for more hilarious letter characters and creatures on every page!

In Letter Town, author-illustrator Darren Farrell takes up the rhyming seek-and-find mantle, applying his own singular charm and humor through the vast and varied wonders of the alphabet. Also included is a reverse jacket alphabet poster for little ones to proudly display and exercise their own letter-seeking and writing abilities.
About the Author
Darren Farrell is the author-illustrator of the award-winning picture book Doug-Dennis and the Flyaway Fib as well as Thank You, Octopus. He lives, for the time being, with his family in Seoul, South Korea, but he is originally from North Carolina and until recently resided in Brooklyn, New York. Visit him online at darren-farrell.com.
Praise For Letter Town: A Seek-and-Find Alphabet Adventure…
"The figures are rendered in a flat style with big swatches of bright colors, clearly targeting a younger audience -- think Byron Barton's palette and figures meshed with Richard Scarry's activity-filled pages to draw the young eye . . . this has unique, whimsical characters, and that appeal makes it worth considering." -- Booklist

"Children love books that invite them to find hidden elements, and in this alphabet book that also combines rhymes and a mystery, they will enjoy finding, counting, and identifying various letters. Children will find the brightly colored illustrations appealing and will love identifying all the pilfered items. " -- School Library Journal

"Bright berry and citrus tones and abundant sight gags are the story's main attractions. End-pages list the characters that readers will find throughout, adding to the seek-and-find excitement." -- Publishers Weekly

Praise for Thank You, Octopus:

2014 NPR Best Book of the Year
Huffington Post Honorable Mention for Funniest Picture Book of the Year

* "A terrific read-aloud; each repeat visit will ensure gleeful participation. A maritime -- and bedtime -- delight." -- Kirkus Reviews, starred review

"On a tugboat in New York Harbor, a boy lives with Octopus, his eight-tentacled au pair. On Octopus's watch, bedtime doesn't go quite as expected. A bath in egg salad? Tooth-brushing with paint? 'Yuck! No thank you, Octopus!' says the boy, who is always polite. Farrell has a sophisticated urban style that should appeal to any children who wish they had as silly a sitter. Parents might decide to stay home after all to read aloud." -- The New York Times

"This hilarious nautical comedy of errors will lure in unsuspecting listeners." -- Horn Book

"Prepare for escalating giggles as a well-meaning octopus takes on bedtime routines with hilarious ineptness. Each page-turn extends the jokes, and the simple recurring refrain adds opportunities for kids to join in. Familiar bedtime tasks, such as brushing teeth and reading stories, all receive silly twists that are perfectly tuned to a young child's delight in the absurd. Exuberant fun that will quickly become a bedtime favorite." -- Booklist


Praise for Doug-Dennis and the Flyaway Fib:

Winner of the 2011 Marion Vannett Ridgeway Honor Book Award

"Young readers and listeners will laugh with recognition at Doug-Dennis's familiar plight and, after a few readings, will be reading it themselves. A promising first book." -- Kirkus Reviews

"Sharp-edged irony and wacky cartoon visuals provide newcomer Farrell's moral tale with some serious wattage." -- Publishers Weekly

"Much like the work of funnymen Jon Scieszka, Lane Smith, and Mo Willems, some of the humor is intended for adults, but the absolute silliness of the story will have young readers giggling as well." -- School Library Journal