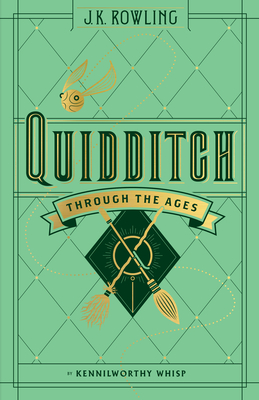 Quidditch Through the Ages (Harry Potter) (Hardcover)
Arthur A. Levine Books, 9781338125740, 128pp.
Publication Date: March 14, 2017
Other Editions of This Title:
Prebound (3/14/2017)
Hardcover (6/30/2015)
* Individual store prices may vary.
Description
If you have ever asked yourself where the Golden Snitch came from, how the Bludgers came into existence, or why the Wigtown Wanderers have pictures of meat cleavers on their robes, you need Quidditch Through the Ages. This invaluable volume is consulted by young Quidditch fans on an almost daily basis.

Proceeds from the sale of this book will go to Comic Relief, who will use your money to continue improving and changing lives -- work that is even more important and astonishing than the three-and-a-half-second capture of the Golden Snitch by Roderick Plumpton in 1921.

-- Albus Dumbledore
About the Author
Kennilworthy Whisp is a renowned Quidditch expert (and, he says, fanatic). He is the author of many Quidditch-related works, including The Wonder of Wigtown Wanderers, He Flew Like a Madman (a biography of "Dangerous" Dai Llewellyn), and Beating the Bludgers -- A Study of Defensive Strategies in Quidditch. Kennilworthy Whisp divides his time between his home in Nottinghamshire and "wherever Wigtown Wanderers are playing this week." His hobbies include backgammon, vegetarian cookery, and collecting vintage broomsticks.

Praise For Quidditch Through the Ages (Harry Potter)…
Praise for Fantastic Beasts and Where to Find Them and Quidditch Through the Ages:

"With these two books, Rowling displays her remarkable imagination and her genius for creating a parallel world through her words." -- USA Today

"Harry Potter's textbooks now cast their own spell." -- TIME

"Amazingly imaginative." -- Associated Press

"Required reading for all Potter fans." -- Newsweek

"Harry Potter fans who pride themselves on knowing every minute bit of Hogwarts trivia will devour both books." -- School Library Journal