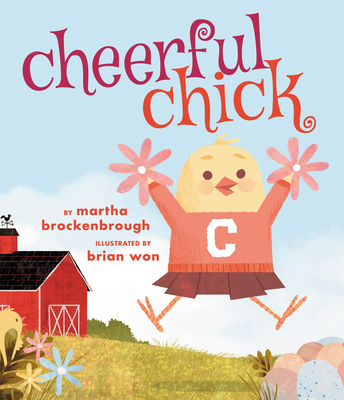 Cheerful Chick (Hardcover)
Arthur A. Levine Books, 9781338134186, 40pp.
Publication Date: January 1, 2019
* Individual store prices may vary.
Description
Right from the moment Chick is born, she wants to lead the other animals in cheer! Unfortunately, the rest of the barnyard just isn't quiiiite as enthusiastic. Lucky for little Chick she has a whole squad of siblings who are backing her up (even when she doesn't realize it)!
About the Author
Martha Brockenbrough is the acclaimed author of two books for adults and eight books for young readers, including The Game of Love and Death, which earned four starred reviews and was a Kirkus Prize finalist; Love, Santa; The Dinosaur Tooth Fairy; and Devine Intervention. Martha teaches in the master's program at Vermont College of Fine Arts. She lives in Seattle, Washington, with her husband and their two daughters. Visit her online at marthabrockenbrough.com.

Brian Won is an illustrator and art director. His debut picture book, Hooray for Hat!, was a Children's Choice Award Finalist and an NPR Best Book. A Chicago native, Brian currently lives in Southern California with his wife and their son. You can visit him online at brianwon.com.
Praise For Cheerful Chick…
Praise for Love, Santa:

"A message about generosity and kindness." -- New York Times Book Review

"Wise, truthful and lovely." -- The Wall Street Journal

"I want to give this book to everyone I know who says, 'It's so sad the kids are growing older.'" -- NPR

* "An elegant, relatable, and moving depiction of a family's negotiation of a tricky childhood rite of passage." -- Publishers Weekly, starred review

"Brockenbrough manages to merge honesty and magic to help families in one of the most poignant of growing-up moments... A coming-of-age story that will have readers of all ages wiping away a sentimental tear or two." -- Shelf Awareness


Praise for Back to School with Bigfoot:

"Berger and Brockenbrough cleverly transfer the familiar anxieties of school-bound kids to their hairy hero... A reassuring model for kids big and small." -- Publishers Weekly

"Nicely juxtaposes the negative what-ifs with a great list of positives and just may lead nervous readers to do the same." -- Kirkus Reviews


Praise for The Dinosaur Tooth Fairy:

"Debut picture-book pair Brockenbrough and Sanchez are millions of years ahead of their time." -- Kirkus Reviews

"With clever wordplay and repetitive words to emphasize the Dinosaur Tooth Fairy's emotions, this could be a fun storytime read-aloud for young readers." -- Booklist
Praise for Love, Santa:

"A message about generosity and kindness." -- New York Times Book Review

"Wise, truthful and lovely." -- The Wall Street Journal

"I want to give this book to everyone I know who says, 'It's so sad the kids are growing older.'" -- NPR

* "An elegant, relatable, and moving depiction of a family's negotiation of a tricky childhood rite of passage." -- Publishers Weekly, starred review

"Brockenbrough manages to merge honesty and magic to help families in one of the most poignant of growing-up moments... A coming-of-age story that will have readers of all ages wiping away a sentimental tear or two." -- Shelf Awareness


Praise for Back to School with Bigfoot:

"Berger and Brockenbrough cleverly transfer the familiar anxieties of school-bound kids to their hairy hero... A reassuring model for kids big and small." -- Publishers Weekly

"Nicely juxtaposes the negative what-ifs with a great list of positives and just may lead nervous readers to do the same." -- Kirkus Reviews


Praise for The Dinosaur Tooth Fairy:

"Debut picture-book pair Brockenbrough and Sanchez are millions of years ahead of their time." -- Kirkus Reviews

"With clever wordplay and repetitive words to emphasize the Dinosaur Tooth Fairy's emotions, this could be a fun storytime read-aloud for young readers." -- Booklist