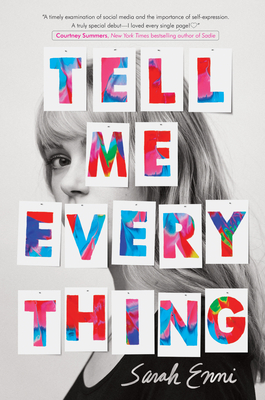 Tell Me Everything (Hardcover)
Point, 9781338139150, 288pp.
Publication Date: February 26, 2019
* Individual store prices may vary.
Description
Social media meets Amelie in this perfect romantic comedy from First Draft podcast creator and YA lit rising star Sarah Enni.
Your secret's safe...until it's not.

Ivy's always preferred to lay low, unlike her best friend Harold, who has taken up a hundred activities as sophomore year begins. But Ivy has her own distraction: the new anonymous art-sharing app, VEIL.

Being on the sidelines has made Ivy a skilled observer, and soon she discovers that some of the anonymous posters are actually her classmates. While she's still too scared to put her own creations on the app, Ivy realizes that she can contribute in an even better way -- by making gifts for the artists she's discovered. The acts of kindness give her such a rush that, when Ivy suspects Harold is keeping a secret, she decides to go all in. Forget gifts -- Harold needs a major party.

But when her good intentions thrust her into the spotlight, Ivy's carefully curated world is thrown into chaos. Now she has to find the courage to stand out... or risk losing everything and everyone she loves most.
About the Author
Sarah Enni has come a long way from her first writing job, a journalism gig covering the radioactive waste industry. She now writes novels and produces and hosts the First Draft podcast, where she encourages other writers to spill their juicy secrets. She lives in Los Angeles with her cat Hammer, and is very likely eating enchiladas right now. Tell Me Everything is her first novel. Learn more at sarahenni.com and on Twitter and Instagram @SarahEnni.
Praise For Tell Me Everything…
"A timely examination of social media and the importance of self-expression. A truly special debut -- I loved every single page!" -- Courtney Summers, author of Sadie