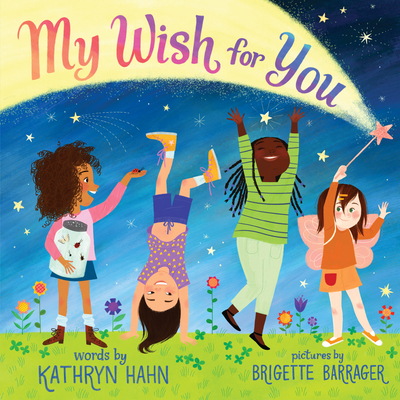 My Wish for You (Hardcover)
Lessons from My Six-Year-Old Daughter
Orchard Books, 9781338150407, 40pp.
Publication Date: September 25, 2018
* Individual store prices may vary.
Description
My wishes for you are many. But the top of the wishes: I want you to be you. And wherever you go, I hope you will always remember the YOU that you are right now.

Inspired by the everyday life lessons of raising her own six-year-old daughter, author and actress Kathryn Hahn creates a heartfelt and touching meditation on the inherent power every girl has deep inside herself. Here is a timely and necessary message of the intrinsic importance of being who you are, no matter what the world tells you. To be curious, strong, and vulnerable. To live life on your own terms. To always look for that sparkle!

With moving illustrations by New York Times bestselling artist Brigette Barrager and a personal letter to readers, My Wish for You is an empowering gift for grandmothers and mothers, daughters and friends, to treasure and cherish for years to come.

As Featured On:
The Ellen Show
The Tonight Show with Jimmy Fallon
The Late Late Show with James Corden
About the Author
Kathryn Hahn is an actress who has appeared in both television and movies. Recent screen credits include Bad Moms, Captain Fantastic, and a new Amazon Original Series from the creators of Transparent. She lives in Los Angeles with her family. My Wish for You is her first book with Scholastic.

Brigette Barrager is an artist, character designer, and illustrator and writer of children's books, including the New York Times bestseller Uni the Unicorn, written by Amy Krouse Rosenthal. She attended the California Institute of the Arts, where she earned a degree in character animation and where she now teaches. With her work Brigette brings distinctive characters to life through her unique sensibilities in color, shape, and composition. She is always in search of stories that are both emotionally resonant and whimsical. She resides in Los Angeles with her handsome husband Sean, grumpy little dog, and two rascally gray kitties. Visit her online at brigetteb.com.
Praise For My Wish for You: Lessons from My Six-Year-Old Daughter…
"An affirming, empowering text with accompanying illustrations that charm ... hopeful, playful girlhood guidance." -- Kirkus

Advance Praise for My Wish for You:

"This gorgeous book is a must-read for parents and kids of all genders and ages. Hahn's words remind us that childhood is magic, and that love is the light." -- Jill Soloway

"Hahn: the voice of a new generation of punk rock children's authors. How lucky for Earth!" -- Sia

"Kathryn Hahn's wishes for her daughter are the perfect gift for any girl, 6 or 61. May we all follow her lead and catch all the sparkles with our big, big feelings." -- Lena Dunham

"I didn't have a book like this when I was a girl. But luckily I have it now." -- Karyn Kusama

"What a perfect time to remind girls to be exactly who they are and to celebrate that very thing. Hahn uses simple ideas to plant the seeds of empowerment. I can't think of a grown-up who also couldn't use the reminder." -- Jenni Konner

"Kathryn Hahn glimpses freedom: an unselfconscious confidence we need never grow out of, and a freedom that even the most jaded among us can hope to reclaim." -- Chris Kraus

"In this world full of judgment and criticism, we could all use an invitation to love ourselves. Just the way we are." -- Erica Oyama

"Kathryn captures the truest meaning of child-like with a breath of fresh air." -- Mila Kunis

"This book lets us all have a small piece of [Kathryn's] beautiful spirit and a way to share it with our little ones." -- Amy Landecker

"I can't think of anyone better to remind us all to be our whole, wild, wonderful, silly, big feeling selves than Kathryn Hahn, whose very presence is an inspiring reminder to get real and have fun doing it." -- Gaby Hoffmann

"I fervently wish I had read something like this 65 years ago. A true life-changer. It is never too late to adopt many of these lessons, and I plan to do so." -- Karen 'Mombo' Hahn

Praise for Brigette Barrager's Uni the Unicorn:

"Barrager's illustrations offer full page spreads of whimsical, dreamlike images that will make every reader want to believe in unicorns (or little girls). This book will be read, treasured, and loved by young dreamers." -- School Library Journal

"Joyful illustrations in brilliant color capture the dreams of the two, as they spin and twirl, explore the forest, and slide down a rainbow together." -- Publishers Weekly