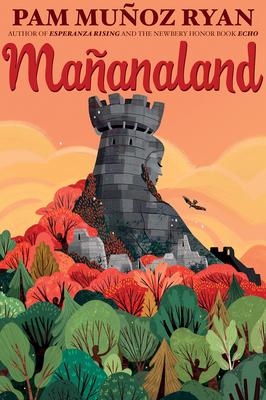 Mañanaland (Hardcover)
Scholastic Press, 9781338157864, 256pp.
Publication Date: March 3, 2020
Other Editions of This Title:
CD-Audio (3/3/2020)
* Individual store prices may vary.
Description
Newbery Honoree Pam Muñoz Ryan weaves a timeless tale of self-discovery.
"Mañanaland is that rare gift of a book. It blends dream and truth into an enthralling fantasy that quietly shows us what it is like to be unwanted, searching for a place to belong. It is a story about choosing the very difficult path of kindness and courage, and about the faith of knowing with all our hearts that this is the path we all must take." -Francisco X. Stork, award-winning author of Disappeared

Maximiliano Córdoba loves stories, especially the legend Buelo tells him about a mythical gatekeeper who can guide brave travelers, who are true of heart, on a journey into tomorrow.

If Max could see tomorrow, he would know if he'd make Santa Maria's celebrated fútbol team, and whether he'd ever meet his mother, who disappeared when he was a baby. He longs to know more about her, but Papá won't talk. So when Max uncovers a buried family secret-involving an underground network of guardians who lead people fleeing a neighboring country to safety-he decides to seek answers on his own.

With a treasured compass, a mysterious stone rubbing,and Buelo's legend as his only guides, he sets out on a dangerous quest to discover if he is true of heart and what the future holds.
About the Author
Pam Muñoz Ryan is the recipient of the Newbery Honor Medal and the Kirkus Prize for her New York Times bestselling novel, Echo, as well as the NEA's Human and Civil Rights Award and the Virginia Hamilton Literary Award for multicultural literature for her body of work. Her celebrated novels, Echo, Esperanza Rising, The Dreamer, Riding Freedom, Becoming Naomi Léon, and Paint the Wind, have received countless accolades, among them two Pura Belpré Awards, a NAPPA Gold Award, a Jane Addams Children's Book Award, and two Américas Awards. Her acclaimed picture books include Amelia and Eleanor Go for a Ride and When Marian Sang, both illustrated by Brian Selznick, and Tony Baloney, illustrated by Edwin Fotheringham, as well as a beginning reader series featuring Tony Baloney. Ryan lives near San Diego, California, with her family.
Praise For Mañanaland…
Praise for Mañanaland:

"Mañanaland is that rare gift of a book. It blends dream and truth into an enthralling fantasy that quietly shows us what it is like to be unwanted, searching for a place to belong. It is a story about choosing the very difficult path of kindness and courage, and about the faith of knowing with all our hearts that this is the path we all must take." -Francisco X. Stork, award-winning author of Disappeared

Awards and Praise for Echo:

A Newbery Honor Book
Kirkus Prize Winner
Américas Award Winner
A New York Times Notable Book
APublishers Weekly Best Book of the Year
An ILA Notable Book for a Global Society
An ALA Notable Children's Book
An Odyssey Honor Audiobook
New York Public Library 100 Titles for Reading and Sharing

"Enchanting... Triumphant." -- The New York Times

"A masterpiece." -- Christopher Paul Curtis, author of Newbery Medal-winning Bud, Not Buddy

"Daring and beautiful." -- Linda Sue Park, author of Newbery Medal-winning A Single Shard

* "The story of Otto and the cursed sisters honor timeless and traditional folktales [and] Ryan has created three contemporary characters who, through faith and perseverance, write their own happy endings, inspiring readers to believe they can do the same." -- School Library Journal, starred review

* "A grand narrative that examines the power of music to inspire beauty in a world overrun with fear and intolerance." -- Kirkus Reviews, starred review

* "Each individual story is engaging, but together they harmonize to create a thrilling whole." -- Publishers Weekly, starred review

"Ryan's ingenious plotting harmonizes as sweetly as the famed mouth harp itself, and her eloquent prose breathes life and energy into likable characters whose stories are individually compelling and historically resonant... A book of special distinction." -- The Bulletin of the Center for Children's Books, recommended

"Resilient, smart characters refuse to give in to circumstances seemingly beyond their control. Ryan's stories never fail to touch the heart." -- Voice of Youth Advocates

Awards and Praise for The Dreamer:
Pura Belpré Award Winner
A Boston Globe-Horn Book Honor Book
A Booklist Editors' Choice
An ALA Notable Children's Book
An ILA Notable Children's Book for a Global Society
A Kirkus Reviews Best Book of the Year
Pen Center USA Literary Award for Children's and Young Adult Literature

"Ryan's hypnotic text, inspired by the childhood of Pablo Neruda, is brought to life by the extraordinary art of Peter Sís." -- The New York Times

* "An immaculately crafted and inspiring piece of text and art." -- Publishers Weekly, starred review

* "Rich, resonant and enchanting." --Kirkus Reviews, starred review

* "The perfect marriages of text and art." -- School Library Journal, starred review

* "This book has all the feel of a classic, elegant and measured, but deeply rewarding and eminently readable." -- Booklist, starred review

* "[A] masterful tribute." -- The Horn Book, starred review

"A phantasmagorical rumination on the childhood of the great Chilean poet Pablo Neruda is rooted in a belief that words possess the power to mend the spirit and change the world." -- SmithsonianNotable List

Awards and Praise for Esperanza Rising:
Pura Belpré Award Winner
An Américas Award Honor Book
Jane Addams Children's Book Award Winner
Willa Cather Award Winner
A Los Angeles Times Book Prize Finalist
An IRA Notable Book for a Global Society
An ALA Top Ten Best Books for Young Adults
New York Public Library 100 Titles for Reading and Sharing
A Publishers Weekly Best Book of the Year

* "Told in a lyrical, fairy tale-like style... Readers will be swept up." -- Publishers Weekly, starred review

* "This well-written novel belongs in all collections." -- School Library Journal, starred review

"Ryan writes a moving story in clear, poetic language that children will sink into, and the book offers excellent opportunities for discussion and curriculum support." -- Booklist

"Ryan's... style is engaging, her characters appealing, and her story is one that -- though a deep-rooted part of the history of California, the Depression, and thus the nation -- is little heard in children's fiction. It bears telling to a wider audience." -- Kirkus Reviews

"Ryan's novel, inspired by events in the life of her grandmother, deftly weaves social issues into a novel that is first and foremost a compelling story of family and coming of age." -- Cooperative Children's Book Center, recommended

"Details of existence at the migrant work camp, agricultural strikes and violence, discrimination, and the Mexican repatriation are realistic, based on historical facts in this readable, believable, and inspirational story." -- Voice of Youth Advocates

"Rich in family, friends and esperanza - the Spanish word for hope." -- The Horn Book