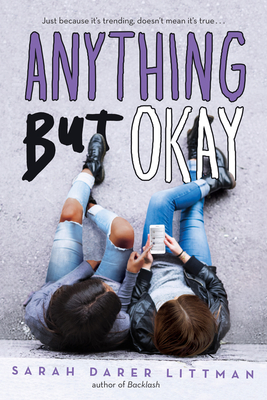 Anything But Okay
Hardcover

* Individual store prices may vary.
Other Editions of This Title:
Paperback (9/3/2019)
Description
Stella and Farida have been best friends forever, but lately things have been tense. It all started when Stella's brother came home from his latest tour with the US Marines in Afghanistan paranoid and angry. But Stella won't talk about it, and Farida can tell she's keeping something from her.
Desperate to help Rob, Stella thinks she just needs to get him out of the house. She definitely didn't expect going to the movies to end with Rob in handcuffs for assaulting one of her classmates after his anger spiraled out of control.
When a video of the fight goes viral, everyone has an opinion of Stella and her "violent vet" brother.

The entire school takes sides, the media labels Rob a terrorist sympathizer, and even Farida is dragged into the mess despite not being there. As the story continues trending, Stella will have to decide just how far she's willing to go for the truth, even if it means admitting her own failures.
Praise For Anything But Okay…
Praise for Sarah Darer Littman

In Case You Missed It
"Littman crafts an unnerving cautionary tale about misplaced digital trust and illusions of privacy."--Publishers Weekly

"An unexpectedly layered story of slow awakening and redemption."--Kirkus Reviews

Backlash
"Littman pens a raw, frighteningly realistic, and absorbing look at cyberbullying and the damaging effects of airing private trauma in a public forum."--Publishers Weekly

"This is a powerful and credible story. . . ."--Booklist

Want to Go Private?
"A bold investigation of a potentially lethal, if common, mixture for teen girls: emotional immaturity, technology and emerging sexuality."--Los Angeles Times

"This book is a compelling, if not disturbing, read."--School Library Journal

Life, After
"Convincing and absorbing."--Publishers Weekly

"Littman catches the voice of teen readers with her spot-on dialogue and realistic situations."--The Jewish Journal

Purge
"An intimate and powerful novel."--The Stamford Times
Scholastic Press, 9781338177480, 352pp.
Publication Date: October 9, 2018
About the Author
Sarah Darer Littman is the critically acclaimed author of In Case You Missed It; Backlash; Want to Go Private?; Life, After; Purge; and Confessions of a Closet Catholic, winner of the Sydney Taylor Book Award. She is also an award-winning news columnist and teaches writing as an adjunct professor in the MFA program at Western Connecticut State University and with the Yale Writers' Conference. Sarah lives in Connecticut with her family, in a house that never seems to have enough bookshelves. You can visit her online at www.sarahdarerlittman.com.