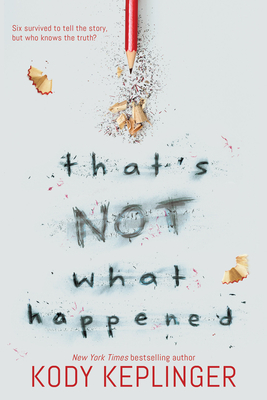 That's Not What Happened (Hardcover)
Scholastic Press, 9781338186529, 336pp.
Publication Date: August 28, 2018
Other Editions of This Title:
Paperback (3/3/2020)
MP3 CD (8/28/2018)
Compact Disc (8/28/2018)
* Individual store prices may vary.
Description
From New York Times bestseller Kody Keplinger comes an astonishing and thought-provoking exploration of the aftermath of tragedy, the power of narrative, and how we remember what we've lost.
It's been three years since the Virgil County High School Massacre. Three years since my best friend, Sarah, was killed in a bathroom stall during the mass shooting. Everyone knows Sarah's story--that she died proclaiming her faith.

But it's not true.

I know because I was with her when she died. I didn't say anything then, and people got hurt because of it. Now Sarah's parents are publishing a book about her, so this might be my last chance to set the record straight . . . but I'm not the only survivor with a story to tell about what did--and didn't--happen that day.

Except Sarah's martyrdom is important to a lot of people, people who don't take kindly to what I'm trying to do. And the more I learn, the less certain I am about what's right. I don't know what will be worse: the guilt of staying silent or the consequences of speaking up . . .
About the Author
Kody Keplinger grew up in a small Kentucky town. During her senior year of high school she wrote her debut novel, The DUFF, which is a New York Times bestseller, a USA Today bestseller, a YALSA Top Ten Quick Pick for Reluctant Readers, and a Romantic Times Top Pick. It has since been adapted into a major motion picture. Kody is also the author of Lying Out Loud, a companion to The DUFF; Run; Shut Out; and A Midsummer's Nightmare, as well as the middle-grade novel The Swift Boys & Me. Kody currently lives in New York City and writes full-time. You can visit her online at www.kodykeplinger.com.
Praise For That's Not What Happened…
Praise for New York Times bestselling author Kody Keplinger
That's Not What Happened
"An original and engrossing narrative about scars, recovery, and how the stories we tell can both sustain and hobble us." --Publishers Weekly

"Echoing highly publicized tragedies, this taut, emotional story goes behind the headlines to reveal lives impacted by school violence." --Kirkus Reviews

"A timely, thought-provoking read...." --School Library Journal

Run
"Bo and Agnes' unlikely friendship rings true and strong." --Kirkus Reviews

"A good unlikely friendship story with compelling characters and a nuanced portrait of disability and small-town life." --School Library Journal

"There's plenty to recommend . . . though the most effective thing here remains Agnes' and Bo's voices and the strength of their realistically tumultuous relationship." --Booklist

The DUFF
"[A] well-written, irreverent, and heartfelt debut." --Publishers Weekly

"A complex, enemies-with-benefits relationship that the YA market has never seen before . . . Her snarky teen speak, true-to-life characterizations, and rollicking sense of humor never cease in her debut." --Kirkus Reviews

"What's best here is Bianca's brazen voice. Even when confused, she is truer to herself than most." --Booklist

Lying Out Loud, a companion to The DUFF
"Just like the recipients of Sonny's fibs, readers will find themselves duped by her creativity, unabashed courage, and hilarious snark. Until it all blows up. Fierce, fresh, total fun." --Kirkus Reviews

"Readers will cringe as Sonny digs herself deeper and deeper into trouble, then applaud when she learns how to develop trust in her relationships with parents, friends, and of course, a hot romantic interest." --VOYA

"Sonny is a realistic and very human character, and even though she is a liar, her motivations are all too believable." --School Library Journal