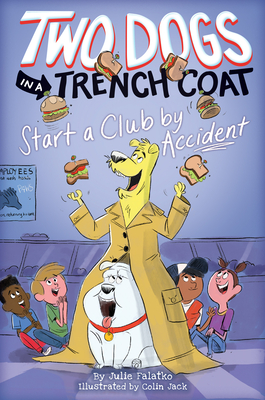 Two Dogs in a Trench Coat Start a Club by Accident (Two Dogs in a Trench Coat #2) (Hardcover)
Scholastic Inc., 9781338189537, 208pp.
Publication Date: January 29, 2019
* Individual store prices may vary.
Description
Sassy and Waldo love school! Everything smells like meat and dirty socks! And they love being able to help Stewart.

When Stewart has to stay late after school for a Junior Office Supply Enthusiasts meeting, Sassy and Waldo are left alone to raid the cafeteria's refrigerator. As Sassy and Waldo's after school antics escalate, hilarity ensues as the two dogs start a club...by accident.
About the Author
Julie Falatko writes quirky books about misunderstood characters trying to find their place in the world. She is the author of Snappsy the Alligator (Did Not Ask to Be in This Book), which was published to four starred reviews and coverage in the New York Times and People magazine. She is also the author of Snappsy the Alligator and His Best Friend Forever (Probably) as well as many more forthcoming books. To learn more about Julie, please visit juliefalatko.com or follow her on Twitter @juliefalatko or on Instagram @julie_falatko.