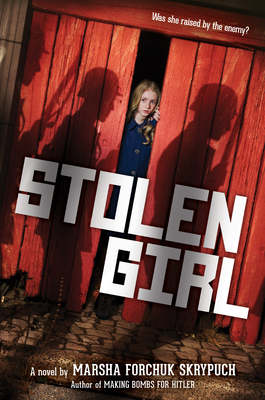 Stolen Girl (Hardcover)
Scholastic Press, 9781338233049, 208pp.
Publication Date: February 26, 2019
Other Editions of This Title:
Paperback (9/1/2020)
* Individual store prices may vary.
Description
A companion to Making Bombs for Hitler and The War Below, this novel follows a Ukrainian girl who was kidnapped as a child to be raised by a Nazi family.
Nadia is haunted by World War II. Her memories of the war are messy, coming back to her in pieces and flashes she can't control. Though her adoptive mother says they are safe now, Nadia's flashbacks keep coming.

Sometimes she remembers running, hunger, and isolation. But other times she remembers living with a German family, and attending big rallies where she was praised for her light hair and blue eyes. The puzzle pieces don't quite fit together, and Nadia is scared by what might be true. Could she have been raised by Nazis? Were they her real family? What part did she play in the war?

What Nadia finally discovers about her own history will shock her. But only when she understands the past can she truly face her future.

Inspired by startling true events, Marsha Forchuk Skrypuch delivers a gripping and poignant story of one girl's determination to uncover her truth.
About the Author
Marsha Forchuk Skrypuch is a Ukrainian Canadian author acclaimed for her nonfiction and historical fiction, including Making Bombs for Hitler, The War Below, Stolen Girl, and Don't Tell the Nazis. She was awarded the Order of Princess Olha by the president of Ukraine for her writing. Marsha lives in Brantford, Ontario, and you can visit her online at calla.com.
Praise For Stolen Girl…
Praise for Stolen Girl:

"A gripping exploration of war-induced trauma, identity, and transformation." -- Kirkus Reviews

"In addition to helping children understand conditions that immigrants face in current times, this stands as a deeply personal, relatable study of the long-term psychological effects of war on children, making it a useful addition to a Holocaust or World War II curriculum." -- Bulletin of the Center for Children's Books

"Filled with historical detail, it highlights a forgotten and horrifying aspect of WWII . . . A fascinating, compelling read." -- Booklist

"This is a strong addition to World War II historical fiction collections, shining a light on a little-known aspect of the Nazi regime's insidious programs." -- School Library Journal


Praise for The War Below:

"Skrypuch offers a compelling, visceral novel of survival that provides an unusual view of the war . . . The suspenseful story carries the reader along to its satisfying conclusion." -- Booklist

"The subject matter is powerful and grows occasionally quite intense. A page-turning window into a complex piece of World War II history." -- Kirkus Reviews

"This story, full of numerous acts of compassion and valor, sheds welcome light on a less familiar battleground of World War II." -- Publishers Weekly

"A riveting read." -- YA Books Central


Praise for Making Bombs for Hitler:

"A gripping story that asks: What would you do to survive?" -- Alan Gratz, author of Prisoner B-3087

"Inspired by real, historical accounts, this is a powerful, harrowing story of transformation." -- Booklist

"Skrypuch draws on real-life stories of survivors in telling Lida's poignant tale, and she creates a cast of young people who are devoted to one another in both thought and deed... A well-told story of persistence, lost innocence, survival, and hope." -- Kirkus Reviews

"The story [has a] strong undercurrent of friendship and loyalty; an author's note gives further background on this important piece of history." -- Publishers Weekly

"Students will admire Lida's pluck amid such heinous conditions . . . An absorbing read about the lesser-known Ukrainian experience during World War II, this is a solid choice for curricular ties and for middle school historical fiction collections." -- School Library Journal

"Skrypuch has written a gripping, emotional novel of one Ukrainian girl's perseverance during the horrors of war . . . This is a vivid picture of what youth experienced during World War II and the hopelessness of displaced populations of all backgrounds and religions." -- Voice of Youth Advocates