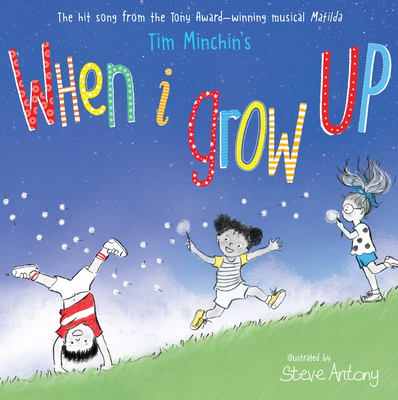 When I Grow Up (Hardcover)
Scholastic Inc., 9781338233841, 32pp.
Publication Date: March 27, 2018
* Individual store prices may vary.
Description
When I grow up,
I will be tall enough
to reach the branches
that I need to reach
to climb the trees
you get to climb when you're grown up.

A group of children imagines all of the things that they will be able to do once they grow up, and they plan to do anything and everything. They hope to solve problems, play in the sun all day long, be brave, and even eat ice cream all day. The combination of Tim Minchin's Tony Award-winning Matilda the Musical lyrics and Steve Antony's joyful artwork is sure to inspire readers of all ages to explore the endless possibilities that the future could have in store.
About the Author
Tim Minchin is a Tony Award-winning musician, comedian, actor, and writer. In 2009, he was commissioned by the Royal Shakespeare Company to write the music and lyrics for a stage adaptation of Roald Dahl's Matilda. Matilda the Musical has won over 50 international awards, including seven Olivier Awards and five Tony Awards. Other works include Dark Side, Tim Minchin and the Orchestra, and Groundhog Day. He lives in Los Angeles and can be found online at www.timminchin.com.

Steve Antony is the popular author and illustrator of Please, Mr. Panda; I'll Wait, Mr. Panda; Thank You, Mr. Panda; The Queen's Hat; Green Lizards vs. Red Rectangles; and Betty Goes Bananas. The Queen's Hat was nominated for the Kate Greenaway Medal in the UK. Steve lives in Swindon, England. Visit him online at www.steveantony.com.
Praise For When I Grow Up…
Praise for Please, Mr. Panda, written and illustrated by Steve Antony:

"Smart design decisions by Antony... distinguish his visual storytelling. The warm gray backdrop and parade of black and white animals (a skunk, an ostrich, an orca) make the candy-colored doughnuts look all the more tantalizing. Novel perspectives... provide freshness, too." -- Publishers Weekly

"Tiny young listeners may be so pleased -- and relieved -- to see the dazzling treats given away that they won't notice how deftly they've been given a manners lesson. Households with toddlers may find a new family catchphrase as Mr. Panda demonstrates one approach to eliciting those elusive 'magic words.' Simple yet funny enough for multiple readings." -- Kirkus Reviews

"Though this is a book with a clear message, the humor and attractive design give it a bit of an edge and keep it out of the realm of the heavy-handed, 'Let's learn a lesson' titles. A fun storytime selection and a solid option for parents or teachers looking for a creative way to emphasize the importance of saying, 'Please' and 'Thank you.'" -- School Library Journal