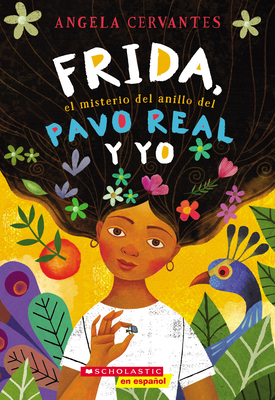 Frida, el misterio del anillo del pavo real y yo (Me, Frida, and the Secret of the Peacock Ring)
Paperback

* Individual store prices may vary.
Other Editions of This Title:
Digital Audiobook (10/10/2022)
Hardcover (3/27/2018)
Paperback (9/17/2019)
Description
A new novel from Angela Cervantes that uses the story of Frida Kahlo to help readers discover the true power of heritage, art, and family.A new novel from Angela Cervantes now available in Spanish! Paloma Marquez is traveling to Mexico City, birthplace of her deceased father. She's hoping that spending time in Mexico will help her unlock memories of the too-brief time they spent together. While in Mexico, Paloma meets Lizzie and Gael. The siblings want her to help them find a valuable ring that once belonged to beloved Mexican artist Frida Kahlo. Finding the ring means a big reward -- and the thanks of all Mexico. But the brother and sister have a secret. Do they really want to return the ring, or are they after something else entirely? ¡Una novela en español de Angela Cervantes! Paloma Márquez viaja a la Ciudad de México, de donde era su padre. Tiene la esperanza de que eso la ayudará a recordar el tiempo que pasaron juntos. Mientras está allí, conoce a unos hermanos que buscan un valioso anillo de la pintora Frida Kahlo. ¿Pero es eso lo que realmente buscan los hermanos?
Scholastic en español, 9781338269079, 240pp.
Publication Date: August 28, 2018
About the Author
Angela Cervantes is a poet, storyteller, and animal lover. Her poetry and short stories have appeared in various publications, and she has written the novels Gaby, Lost and Found and Allie, First at Last. When Angela is not writing, she enjoys hanging out with her husband in Kansas and eating fish tacos every chance she gets. Keep up with Angela at angelacervantes.com.