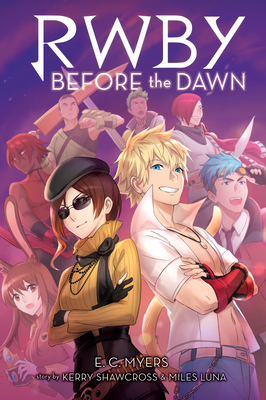 Before the Dawn (RWBY, Book 2)
Paperback

* Individual store prices may vary.
Description
In the future-fantasy world of RWBY, Rooster Teeth's hit animated webseries, teens train to become warriors. Join the fight in this epic official, original novel from E.C. Myers and RWBY's head writers!
A storm is coming...

After their strange mission in the desert, Coco, Fox, Velvet, and Yatsuhashi are back at Shade Academy, doing some "extracurricular" work to track down The Crown, a mysterious force that's snatching up people with powerful semblances. The job should be easier with Team SSSN by their side, but The Crown continues to evade them. Out of options and worried that a bigger plot is in motion, CFVY and SSSN notify Theodore, the Headmaster of Shade Academy, but Theodore has problems of his own.

Troubled by the disasters at Beacon and Haven Academies and struggling to support the flood of refugee students, Theodore declares a new initiation-including the formation of new teams to better unite the student body. Amid mounting tension at the school, CFVY and SSSN must contend with unfamiliar teammates and uneasy rivalries, all while The Crown plots their next move.

Don't miss this exclusive, original story straight from award-winning author E.C. Myers and RWBY's head writers, Kerry Shawcross and Miles Luna!
Praise For Before the Dawn (RWBY, Book 2)…
Praise for After the Fall (RWBY, Book 1):

"Engaging... Myers does a terrific job of explaining this world to newcomers and, amid the nonstop action and thrilling battle scenes, also manages to portray the four friends three-dimensionally through witty dialogue and flashbacks. Even secondary characters have complexity, making the world feel immersive and present... This spinoff is funny and thrilling from beginning to end, and thoughtful writing gives the action added depth and emotional impact." - Kirkus Reviews, starred review
Scholastic Inc., 9781338305753, 336pp.
Publication Date: July 21, 2020
About the Author
E.C. Myers was assembled in the U.S. from Korean and German parts and raised by a single mother and the public library in Yonkers, New York. He is the author of numerous short stories and four young adult books: the Andre Norton Award–winning Fair Coin, Quantum Coin, The Silence of Six, and Against All Silence. E.C. currently lives with his wife, son, and three doofy pets in Pennsylvania. You can find traces of him all over the internet, but especially at ecmyers.net and on Twitter: @ecmyers.