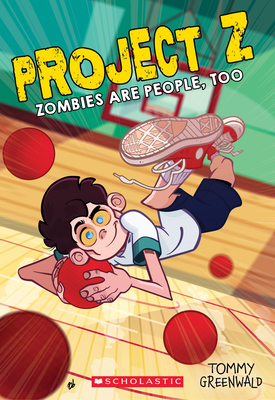 Zombies Are People, Too (Project Z #2) (Paperback)
Scholastic Paperbacks, 9781338305968, 272pp.
Publication Date: September 3, 2019
* Individual store prices may vary.
Description
Arnold Z. Ombee is back in this wacky, page-turning sequel to A Zombie Ate My Homework!
The zombie secret is out!

Sort of... Scientists at the lab that Arnold escaped from claim they've changed their tune. Instead of creating super zombie soldiers, they just want humans and zombies to be friends.

Too good to be true? Probably. But Arnold agrees to help teach other zombies everything he's learned so far about being a real human boy.

But there's something that seems strange about these new "zombies" (well, stranger than usual). Arnold knows it's up to him to unearth the secret before it eats him up inside. And outside. And everywhere else.
About the Author
Tommy Greenwald is the author of many books for children, including the CrimeBiters! series, the Charlie Joe Jackson series, and the football novel Game Changer. This is his first series for zombies.
Praise For Zombies Are People, Too (Project Z #2)…
Praise for Zombies Are People, Too:

"This sequel one-ups A Zombie Ate My Homework's (2019) infectiously hilarious tone with more over-the-top sequences, amplified by Bardin's cartoon spot illustrations." --Kirkus Reviews