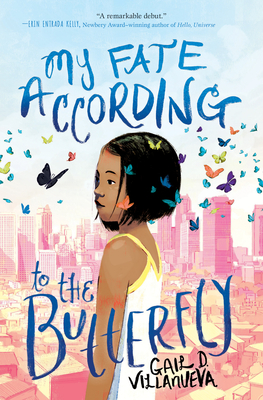 My Fate According to the Butterfly (Hardcover)
Scholastic Press, 9781338310504, 240pp.
Publication Date: July 30, 2019
* Individual store prices may vary.
Description
Light and deep, smart and funny, crushing and hopeful all at the same time, My Fate According to the Butterfly will open your eyes to both the world's potential for magic, and to its harsh realities.
* "Villanueva's debut is a beautiful #ownvoices middle-grade novel. Tough topics -- the brutal war on drugs in the Philippines, family reconciliation, and recovery -- are addressed, but warmth and humor... bring lightness to Sab's story. This immersive novel bursts with life." -- Kirkus Reviews, starred review

When superstitious Sab sees a giant black butterfly, an omen of death, she knows that she's doomed! According to legend, she has one week before her fate catches up with her -- on her 11th birthday. With her time running out, all she wants is to celebrate her birthday with her entire family. But her sister, Ate Nadine, stopped speaking to their father one year ago, and Sab doesn't even know why.

If Sab's going to get Ate Nadine and their father to reconcile, she'll have to overcome her fears -- of her sister's anger, of leaving the bubble of her sheltered community, of her upcoming doom -- and figure out the cause of their rift.

So Sab and her best friend Pepper start spying on Nadine and digging into their family's past to determine why, exactly, Nadine won't speak to their father. But Sab's adventures across Manila reveal truths about her family more difficult -- and dangerous -- than she ever anticipated.

Was the Butterfly right? Perhaps Sab is doomed after all!
About the Author
Gail D. Villanueva is a Filipina author born and based in the Philippines. She's also a web designer, an entrepreneur, and a graphic artist. She loves pineapple pizza, seafood, and chocolate, but not in a single dish together (eww). Gail and her husband live in the outskirts of Manila with their dogs, ducks, turtles, cats, and one friendly but lonesome chicken.
My Fate According to the Butterfly is her debut novel.
Praise For My Fate According to the Butterfly…
"At once rich in the vibrant culture of the Philippines and universal in its focus on family and forgiveness, My Fate According to the Butterfly is a soaring tale of hope that will be sure to touch the hearts of all young readers." -- Ruth Behar, Pura Belpré Award-winning author of Lucky Broken Girl

"Superstition, family, and friendship are the hallmarks of this remarkable debut. I adore Sab -- and readers will, too." -- Erin Entrada Kelly, Newbery Award-winning author of Hello, Universe

"Gail Villanueva's debut novel captures all the richness of the Philippines, the heart-pounding thrills of a great mystery, and the warmth and wonder of growing up. This is a simply wonderful story that's filled with magic, intrigue, family secrets, and hope." -- Kate Messner, author of The Seventh Wish and Breakout

* "Villanueva's debut is a beautiful #ownvoices middle-grade novel. Tough topics --the brutal war on drugs in the Philippines, family reconciliation, and recovery -- are addressed, but warmth and humor... bring lightness to Sab's story. This immersive novel bursts with life." -- Kirkus Reviews, starred review
"Debut author Villanueva deftly incorporates a touch of the magical alongside vibrant details about contemporary Filipino life and a universal story about growing up, reconciliation, and family." -- Publishers Weekly

"A gentle title that skillfully addresses difficult issues of drug addiction and family tension from the perspective of a young girl. For those who appreciated Marie Miranda Cruz's Everlasting Nora, Padma Venkatraman's The Bridge Home, or Erin Entrada Kelly's The Land of Forgotten Girls." -- School Library Journal