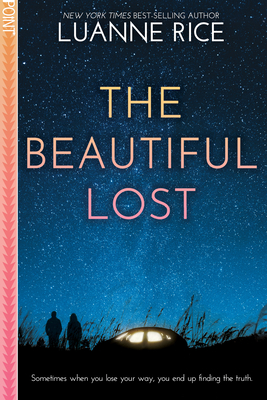 The Beautiful Lost (Point Paperbacks) (Paperback)
Point, 9781338316315, 304pp.
Publication Date: January 29, 2019
* Individual store prices may vary.
Description
From NY Times bestselling author Luanne Rice, a sweeping story of a girl and boy, both troubled in different ways, who take off on a whirlwind road trip. Part of the Point Paperbacks line.
Here are three things to know about Maia:

1. Ever since her mother left, Maia's struggled with depression -- which once got so bad, she had to go to an institution for a while. She doesn't want to go back.

2. Maia's sure that if she finds her mother, if the two of them can talk about whale songs and constellations, then everything will be okay again.

3. She's in love with Billy, the handsome, brooding boy who lives in the group home in town. He doesn't seem to know that Maia exists... until now.

When Maia sets off on a road trip in search of her mom, Billy unexpectedly comes along. They drive up the East Coast, stopping along the way for lobster rolls and lighthouses. Maia learns that Billy has dark secrets of his own -- and wants to outrun his past, too. But what will the future hold if they reach their destination?

From internationally bestselling author Luanne Rice, this is a sweeping, stunning story about the surprising directions our hearts can take.
About the Author
Luanne Rice is the New York Times bestselling author of 34 novels, which have been translated into 24 languages. The author of Dream Country, Beach Girls, The Secret Language of Sisters, and others, Rice often writes about love, family, nature, and the sea. She received the 2014 Connecticut Governor's Arts Award for excellence and lifetime achievement in the Literary Arts category. Several of Rice's novels have been adapted for television, including Crazy in Love for TNT, Blue Moon for CBS, Follow the Stars Home and Silver Bells for the Hallmark Hall of Fame, and Beach Girls for Lifetime. Rice is an avid environmentalist and advocate for families affected by domestic violence. She divides her time between New York City and Old Lyme, Connecticut. Visit her online at luannerice.net.
Praise For The Beautiful Lost (Point Paperbacks)…
Praise for The Beautiful Lost:

"Honest and intensely personal." -- Justine Magazine

"Fans of Nicholas Sparks will fall in love with this YA title." -- School Library Journal
"A riveting examination of the ravages of depression and loss... [that] will tug at even the most jaded hearts. An author's note and resources serve as encouragement for those battling their own pain. This novel clearly demonstrates that sometimes it is only in darkness that one can see light." -- Kirkus Reviews


Praise for The Secret Language of Sisters:

"Riveting and heartbreaking... a glorious affirmation." -- Lauren Myracle, bestselling author of Shine
"Luanne Rice brings her trademark grace and lyricism to a suspenseful story about sisters and life-changing chances." -- Huntley Fitzpatrick, author of My Life Next Door
"A moving story, beautifully told, about art, hope, and all kinds of love. Welcome to the YA world, Luanne Rice!" -- Natalie Standiford, author of How to Say Goodbye in Robot
"Raw and emotional. A novel you'll want to discuss, and one that will stick with you long after you've turned the last page." -- Tamara Ireland Stone, bestselling author of Every Last Word
"Rice skillfully examines the way one mistake can shatter the lives of many." -- Publishers Weekly
"Genuine and heartfelt. . . fans of Gayle Forman's If I Stay. . . will find another favorite in this." -- School Library Journal
"Rice, a bestselling adult author, employs alternating chapters in the sisters' voices with clarity and honesty in her YA debut." -- Booklist
Praise for The Beautiful Lost:

"Honest and intensely personal." -- Justine Magazine

"Fans of Nicholas Sparks will fall in love with this YA title." -- School Library Journal

"A riveting examination of the ravages of depression and loss... [that] will tug at even the most jaded hearts. An author's note and resources serve as encouragement for those battling their own pain. This novel clearly demonstrates that sometimes it is only in darkness that one can see light." -- Kirkus Reviews

Praise for The Secret Language of Sisters:
"Riveting and heartbreaking... a glorious affirmation." -- Lauren Myracle, bestselling author of Shine
"Luanne Rice brings her trademark grace and lyricism to a suspenseful story about sisters and life-changing chances." -- Huntley Fitzpatrick, author of My Life Next Door
"A moving story, beautifully told, about art, hope, and all kinds of love. Welcome to the YA world, Luanne Rice!" -- Natalie Standiford, author of How to Say Goodbye in Robot
"Raw and emotional. A novel you'll want to discuss, and one that will stick with you long after you've turned the last page." -- Tamara Ireland Stone, bestselling author of Every Last Word
"Rice skillfully examines the way one mistake can shatter the lives of many." -- Publishers Weekly
"Genuine and heartfelt. . . fans of Gayle Forman's If I Stay. . . will find another favorite in this." -- School Library Journal
"Rice, a bestselling adult author, employs alternating chapters in the sisters' voices with clarity and honesty in her YA debut." -- Booklist