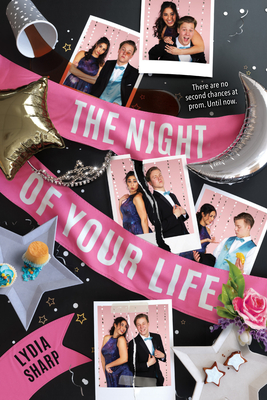 The Night of Your Life (Point Paperbacks) (Paperback)
Point, 9781338317275, 272pp.
Publication Date: March 3, 2020
* Individual store prices may vary.
Description
He's having the worst prom ever... over and over again.
Does a perfect prom night exist? JJ's about to find out.
All year, JJ's been looking forward to going to prom with his best friend, Lucy. It will be their last hurrah before graduation -- a perfect night where all their friends will relax, have fun together, and celebrate making it through high school.
But nothing goes according to plan. When a near car crash derails JJ before he even gets to prom, a potential new romance surfaces, and Lucy can't figure out what happened to him, things spiral out of control. The best night of their lives quickly turns into the worst.
That is... until JJ wakes up the next day only to find that it's prom night all over again. At first, JJ thinks he's lucky to have the chance to get innumerable chances at perfecting the night of his life. But each day ends badly for him and Lucy, no matter what he does. Can he find a way to escape the time loop and move into the future with the girl he loves?
In the end, JJ might not get the prom he wanted, but he may well get the prom he needed...
About the Author
Lydia Sharp worked a number of different jobs, everything from retail management to veterinary medicine, before turning their passion for stories into a career. They are now an editor for Entangled Publishing and write young adult novels with lots of kissing and adventures. Lydia lives in Ohio with their family and an ever-growing collection of owls. When not completely immersed in a book, Lydia binges on Netflix, pines for fall, and hosts mad tea parties in Wonderland. Follow on Twitter @Lydia_sharp and visit lydiasharpbooks.com for updates.
Praise For The Night of Your Life (Point Paperbacks)…
Praise for Whenever I'm with You:

"A gripping wilderness adventure with strong romantic underpinnings... The plot packs plenty of harrowing surprises to keep readers turning pages." -- Publishers Weekly

"Poignant and warm. Whenever I'm with You is a compelling road trip into the frozen wilds of Alaska that will melt your heart. Sharp's deft writing explores grief, loss, and friendship inside a rugged adventure. A hopeful portrayal of the power of family bonds and acceptance in the face of upheaval." -- Jenn Bennett, RITA Award-winning author of The Anatomical Shape of a Heart

"A fun, romantic, survivalist adventure full of warmth, heart, and hope." -- Dahlia Adler, author of Just Visiting